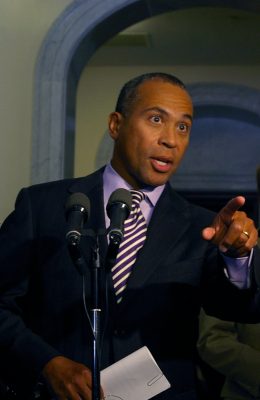 Former Massachusetts Governor Deval Patrick announced his candidacy for the 2020 Democratic nomination Wednesday, bringing the total number of Democratic candidates to 18 less than three months before the Iowa caucuses and New Hampshire primary.
Patrick, who served as governor for two terms from 2007 to 2015, said in his official announcement video he was running to "build a better, more sustainable, more inclusive American Dream for the next generation."
https://twitter.com/DevalPatrick/status/1194947881792352257
Patrick's late entry into the presidential race comes as former Mayor of New York Michael Bloomberg is also considering a presidential campaign, according to The New York Times.
Patrick's decision to enter the presidential race is a reversal of a Facebook post published in December of 2018, where he wrote that he was not considering a 2020 presidential campaign, according to CNN.
"I've been overwhelmed by advice and encouragement from people from all over the country, known and unknown," Patrick wrote. "… But knowing that the cruelty of our elections process would ultimately splash back on people whom Diane and I love, but who hadn't signed up for the journey, was more than I could ask."
BU associate professor of political science and international relations Timothy Longman said he was shocked when Patrick made his surprise entry into the 2020 Presidential Campaign.
"I am puzzled as to why you would decide to enter the race," Longman said. "The opinion polling shows that Democrats are actually really content with the candidates, or something like 85 percent of the democrats feel really good about the about the candidates."
Longman said Democratic voters are not looking for another "businessman" president like Patrick, especially as the former governor went to work for venture capitalist "Bain Capital" after his second term.
"[Bain Capital] destroyed companies and is notorious for buying up companies, stripping them of all their profits and then leaving them to die," Longman said.
Allston resident, Marissa Resnick, 26, said while Patrick is a good candidate, she thinks he has little to no chance of winning.
"With our political climate, I think someone more moderate will be our next president because the nation has just seen what it was like from one extreme viewpoint and they're not ready to swing it that far again, especially in the opposite direction," Resnick said.
Ibrahim Ali-Salaam, 43, from Dorchester said he thinks it is just impossible for Patrick to mount a successful campaign, as Patrick entered so late into the presidential campaign.
"I think it's a little, little crazy that he's running kind of late, like he's going to get anywhere," Ali-Salaam said. "There's already the front runners in terms of Biden and Elizabeth Warren."
Karen Escobar, 32, from Chelsea, said her main concern is making sure President Donald Trump is not be re-elected.
"I just want, you know, I don't want Donald Trump to be our president in the 2020 elections," Escobar said.