The homecoming game did not disappoint for Boston University senior forward Nia Irving. Irving, from Fairfield, Maine, dominated the University of Maine Black Bears in BU's 62-49 victory.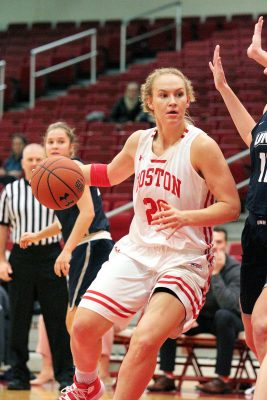 Irving scored 20 points and was a rebound away from a double-double in BU's (2-1) first game against Maine (1-2) since 2013.
BU head coach Marisa Moseley said Irving is the team's crutch to lean on.
"She finds a way to get you a bucket or get you some rebounds; she's just a hard worker. She's just a constant steady force for us," Mosely said. "I was really proud of her and happy for her that she was able to play so well in her homecoming."
Four Terriers — Irving, junior guard Katie Nelson, freshmen guards Annabelle Larnard and Sydney Johnson — scored double digit points in a balanced offensive attack that gave BU a wire-to-wire victory. The Terriers' role players were largely absent from the game as the bench scored only two points in their limited minutes.
Junior guard Katie Nelson continued her ironwoman streak; she played all 40 minutes against the Black Bears and has not missed a single minute of action this season.
BU jumped out to a quick 2-0 lead after 20 seconds and did not give up the lead for the rest of the quarter. At the end of the first, the Terriers led Maine 14-11, but the Terriers shot only 45.5 percent from the field, but were a perfect 4 for 4 from the free throw line.
Irving paced the Terriers in the opening period with eight of BU's 14 points.
The Terriers were unable to find a steady scoring stream in the second quarter either. BU shot only 3 of 11 from the field, missing five 3-point shots in the effort. Despite the poor offensive performance, BU maintained a six point lead at the half because of stout defensive play. The Terriers held Maine to 2 for 9 from the field, while pulling down 10 rebounds.
Irving led BU at the half with 13 points and six rebounds, meanwhile Black Bear junior guard Dor Saar led all scorers with 14 points.
The second half started on a much better offensive pace for the Terriers, as BU sank three of its first four shots to gain its largest lead of the game at 31-20.
Moseley said shot selection and a single adjustment helped the Terriers overcome the first half offensive slump.
"We made one small adjustment with our zone offense just to make sure we attacked a little bit more," Moseley said. "We just needed to take advantage of our inside advantage and take care of the ball."
An 11-0 run sparked by Larnard's five quick points put BU up by 15 points, 35-20, with 4:39 left in the third quarter.
Larnard continues to play valuable minutes as her freshman campaign unfolds. She scored 11 against the Black Bears and is averaging 10 points per game while also grabbing an average of five boards per game too.
BU's 15 point lead would extend into the fourth quarter, 46-31, after Maine's coach was called for a technical foul for arguing with the officials after a charge call.
Maine chipped away at BU's lead but a 3-pointer from Nelson put BU up 14 and seemed to be the dagger to the Black Bears with a little more than six minutes left to play.
Maine never got within 10 points for the rest of the game as the Terriers finished the win, 62-49. Irving poured in a team-high 20 points while also pulling down nine rebounds. Saar led all scorers with 21 points.
The Terriers will finish their America East Conference roadtrip at the State University of New York at Albany on Wednesday. The Great Danes sit at 1-3 and share a common loss with BU against Marist College.