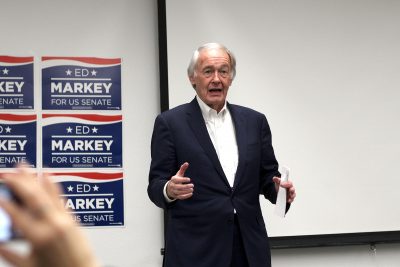 Massachusetts Senator Ed Markey held a public strategy session Sunday to prepare for his 2020 Senate reelection campaign. Markey addressed volunteers at Coolidge Corner Library in Brookline before campaign staff broke up to discuss ways to raise grassroots support. 
Markey is running against U.S. Rep. Joe Kennedy III, the grandson of U.S. Sen. and former U.S. Attorney General Robert Kennedy, in the Democratic primaries. Markey opened his speech by praising the people of Massachusetts for their history of setting examples.
"Massachusetts is only 2 percent of America's population, but we're not an ordinary 2 percent. We are not just the Bay State, we are the brain state," Markey said. "We have the people who figure out where we're going and then try to get there. They look ahead, they lead the way and Massachusetts becomes the example for what our whole country should look like."
The strategy session primarily focused on training Newton, Wellesley and Brookline volunteers   to campaign for Markey in their communities. The strategy session opened with a speech from Markey, in which he outlined his beliefs and policies regarding issues such as climate change, gun control and nuclear technology. 
Several current and former state politicians in attendance voiced their support for Markey, including former Massachusetts Governor Michael Dukakis and Holly Ryan, who recently became the first openly transgender woman elected to public office in Newton. 
Markey spoke about sponsoring the Green New Deal and said it was important for progressive environmental legislation to pass. He said "preventative care" is important to implement.
"The preventative care is the massive deployment of wind and solar and all electric vehicles, [as well as] new storage technologies so that we reinvent the way in which we generate energy in our society." Markey said. "What I did was I partnered with Alexandria Ocasio-Cortez to create the Green New Deal and that informed the debate on climate change in our country."
Markey said the execution of the Green New Deal's policies will help create millions of blue collar jobs such as for electricians and roofers.
"The least that we should be able to say is that we tried to transition to a new era," Markey said, "where we had children having to look back to see that there was such a time when we were so dependent on fossil fuels."
Markey also addressed controversies surrounding President Donald Trump's judiciary appointments.
"The president is trying to use his appointments to the federal judiciary as a way now of rolling back labor protections, healthcare protections, rights protections, environmental protections," Markey said, "and to kind of pull us back to a time in which ordinary families did not have the benefit of a government that stood up for them because they can't alone."
Ned O'Leary, 23, of Beacon Hill, attended the strategy session and said his family has traditionally supported Markey.
"There's a family connection to the Markey campaign, I've had multiple siblings work for his campaigns and his office in Washington," O'Leary said. "I think the driving factor is a longstanding leading record on climate change. That's probably my top issue going into 2020, so I think that's where he stands out."
Attendee Terry Altherr, 24, of Newton, said in spite of his initial dislike for the senator he was impressed with Markey's track record of persistence in issue advocacy. 
"When I attended the 2018 state convention and Ed Markey talked about single-payer health care and how we need to bring that forth, I was really happy about that, too," Altherr said. "Because up to that point, I hadn't really heard many people in Massachusetts talk about single-payer health care and Medicare for All."
Keith Worthley, 57, of Newton, attended the campaign event and said he enjoyed the speech and the fact that Kennedy's campaign for Markey's seat seems "off-brand" for the House representative.
"I thought Ed was much more personal than he is on his stump speech, and I haven't seen him speak very often, but I'm with Ed on the issues," Worthley said. "I see no need for Representative Kennedy to usurp him."