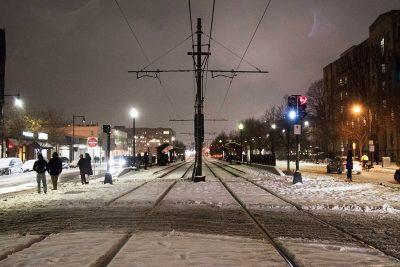 Boston is the 10th gloomiest city in the U.S., according to a report by ranking site BestPlaces.net that looked at how much sunlight and bad weather a city received on average. Having a higher "Gloom Score" may make residents more susceptible to seasonal affective disorder, according to the report.
Boston received a 67.80 Gloom Score, calculated by the percentage of cloud coverage, average hours of daylight and number of days without precipitation from November to January, according to the rankings. 
SAD is a type of depression that typically corresponds to gloomier weather, such as limited daylight and sunshine, according to Tufts Medical Center. SAD symptoms usually appear during late fall and early winter and subside during the spring and summer months.
Common symptoms of SAD include feelings of hopelessness or guilt, experiencing fatigue or loss of interest in activities and weight loss.
Bertrand Sperling, chief operations officer at Best Places said these depression symptoms are most often caused by seasonal changes in the surrounding environment.
"If you are noticing that you might be a little bit down in the dumps or feeling some kind of demotivation or sluggishness, it's not just you," Sperling said. "Quite likely, it could be brought upon by the overall gloominess, which bears out in the data that we collected."
Sperling said a person is more likely to be diagnosed with SAD if they experience these symptoms for an extended period of time.
"If you have two weeks or more of that in a row," Sperling said, "that's when a doctor will likely diagnose you with it."
There are multiple ways to treat SAD, such as light therapy, psychotherapy and antidepressants, according to Tufts. Other non-medical treatments include being proactive in going outdoors, exercising and being social.
However, Sperling said Boston's gloom does not appear to be a deterrent for residents. Gloomy cities that offer natural landscapes can retain their appeal, he said.
"We've talked to people in Seattle, Portland and the East Coast who say, 'I'd rather have the resources and the nice, natural outdoor feel that some of these gloomier places have,'" Sperling said. "They have really beautiful natural landscapes and natural environments and so a lot of people prefer that over a place in the desert in southwest Arizona or Florida."
Sperling said residents can learn skills to combat feelings of depression during gloomy winter months from Nordic countries.
"[Nordic countries] have a saying that there's no bad weather, only bad clothing," Sperling said. "The Danish have the concept of 'hygge,' which is like partaking in cozy activities indoors with friends and family and even alone. They have this concept of making the best of it."
East Boston resident Gary Hawkins, 83, said he thinks there is a way for Boston residents to avoid SAD symptoms altogether.
"I think a lot of it could be avoided if they adjusted our time zone," Hawkins said. "I don't think we're really in the correct time zone at all. I think we really should be on Atlantic time, same as Nova Scotia."
Venetia Chan, 26, of Cambridge said that coming from Malaysia, she has had to adjust to Boston's seasonal changes. 
"You've got to plan according to the weather," Chan said. "I think that's a bit of a challenge."
Hannah Tran, 25, of Brighton, said she does her best to stay active and focus on her social life to combat the dreary weather. 
"Right now, I know it gets dark out before 4:30-ish," Tran said, "and so I always try to go work out or go do something like make plans with my friends to keep myself outside and not let the weather and the dark keep me sad."