Coming off of an 84-70 victory against the University of New Hampshire over the weekend, the Boston University men's basketball team will travel to Columbia, South Carolina to take on the University of South Carolina on Tuesday.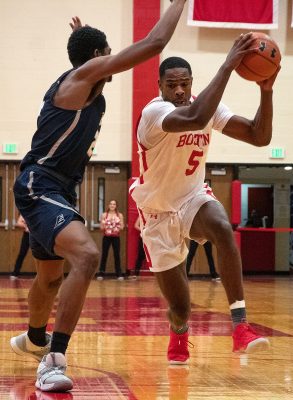 Tuesday's contest will be the first of four games BU will play as a part of the Cancun Challenge — a unique basketball event held at Hard Rock Hotel Riviera Maya in Puerto Aventuras, Mexico each year. The Terriers will play two games in Cancun, Mexico on Nov. 26 and 27.
A win against the Gamecocks would be the first victory for BU against a Southeastern Conference opponent in the school's history.
BU used a strong second half Saturday to take down UNH. The Terriers' "Big Three" consisting of sophomore Walter Whyte, junior Javante McCoy and senior Max Mahoney scored a combined 59 of the 84 points for BU.
Tuesday's game against the Gamecocks will be only the third time BU and South Carolina have ever faced off — the last time was during the 1980-81 season. South Carolina leads the all-time series 2-0.
The 2019 Gamecocks will enter Tuesday night with an undefeated record. They have outscored their opponents by 27.7 points in their first three games.
South Carolina sophomore AJ Lawson and redshirt junior Jair Bolden lead South Carolina as the only players averaging double-digit points this season. Lawson scores an average of 16 points per game and Bolden scores an average of 12.3.
Bolden leads the team in 3 pointers (he has scored six), shooting 54.5 percent of them from behind the arc. The Brooklyn native and transfer from George Washington University was not able to play last season due to NCAA transfer rules.
Tuesday's game against the Terriers appears to be the best competition South Carolina will have seen so far this season. Three of their starters are averaging less than 23 minutes per game due to big leads the team has going into the second half of games.
For BU, the Terriers have used the same starting five players in all four of their games. Their three leading scorers will be relied on heavily in Tuesday's game.
A good first half will also be key for BU, which is something they have succeeded in throughout their first four games. They have outscored opponents by seven points per game in the first half.
They have forced 20.7 turnovers per game from their opponents. Taking care of the ball will be imperative for BU.
The Terriers will be on the road for their next six games. They will not play a home game until Dec. 14 against Dartmouth College.