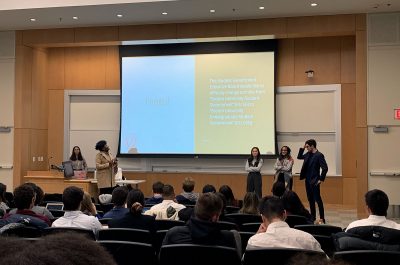 An amendment to the Boston University Undergraduate Student Government constitution, which would have given the public more access to Senate meeting minutes and resolutions, failed to pass in a Senate meeting Monday.
The amendment, proposed by freshman senator in the College of Arts and Sciences Evan Teplensky, would have required the Senate Vice Chair to report all Senate minutes, resolutions passed and the voting records of each senator to the USG Department of Communications following Senate meetings.
The amendment would have required the Department of Communications to post this information to the USG website in presentation format within 36 hours of senate meetings.
USG Director of Communications Lia Valdez said she supported Teplensky's initiative for greater access to Senate meeting information.
"I think transparency is key," Valdez said. "I think it's a great idea to not just have Senate meetings, but to also have visuals like the presentations."
Samantha Casas, a sophomore senator in CAS, said she opposed the amendment.
"It really just means that students are getting information they don't need," Casas said. "It's kind of just adding more on to the communications department that they don't need, as well as Nada [Shalash], our [Senate] Vice Chair."
Casas said she also recognizes the potential benefits of greater information sharing from Senate.
"It shows the student body that we're doing something," Casas said, "and keeps us accountable when we seek for reelection in the next year."
USG also heard a proposal from the Executive Board to change USG's official name from "Student Government" to "Undergraduate Student Government."
Members of the Executive Board proposed the official name change because they thought the title of the governing body should reflect its undergraduate members and constituents, USG President Hafzat Akanni said.
Akanni said the change would also provide further differentiation between USG and the student governments of separate colleges at BU.
"We would like for there to be a clear and distinctive way to distinguish ourselves from individual college governments," Akanni said in the meeting.
Vice President of Internal Affairs Jessica Zheng, a sophomore in CAS, said the Executive Board sees the name change as a way to familiarize BU undergraduates with USG and promote USG's presence on campus.
"We want to make sure that the impact we have on students is the same as our intent," Zheng said, "and that students understand that if they're an undergraduate student, no matter what school they're in, no matter if they're part-time or full-time, they can come to us because we should be their first line of defense and offense."
Angie Serafini, a freshman senator in CAS, expressed concern that the new name would be too long and would do little to address the larger issue of USG's presence on campus.
"I don't personally think it's a good idea," Serafini said. "I think there are definitely more effective ways to show the school how [student government] is structured and I don't think changing that one thing will make a difference."
Valdez said, as director of communications, she can appreciate the impact a name change could have on the campus-wide image of student government, especially if accompanied by a new logo.
"Personally, I see the advantage, advertising and marketing wise, of what a name change could do" Valdez said. "When it comes alongside a brand new logo, it's like, 'Wow, look at this thing we've worked really hard on and we're really excited about,' and I know that passion will resonate with the student body."