The room was filled with the sound of beating Ugandan drums and the smell of strong Lebanese coffee spiked with cardamom. 
Members of the Muslim community in Boston came together to celebrate their culture for the 1st Annual Cultural Festival, hosted at the Islamic Society of Boston Cultural Center, New England's largest mosque. Saturday's event featured food, music, fashion and crafts from around the world.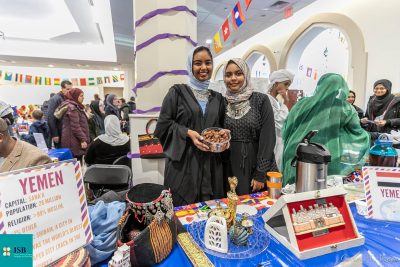 International guests from countries like Mexico and Indonesia lined up to mark their home countries on a world map at the entrance of the mosque. Volunteers handed out fake airline tickets, on which each of the passengers were named "Beloved Community Member." 
Approximately 26 countries were represented at the event with their own tables, offering various cultural activities for attendees. The Pakistani table, for example, allowed tourists to design kites and munch on palak pakora — a coriander-and-chili-spiced vegetable fritter — while the Somalian table displayed carvings, carpentry and hand-made necklaces.
Karim Razzaz, the community project manager for the ISBCC, said he is actively working to get the community more engaged.
"This is a culture center, not just a mosque," Razzaz said. "We are trying to raise this meaning, or this mentality, of culture."
While the festival celebrates American culture with Islamic roots, Razzaz said anyone is welcome to find a community within the center.
"[The ISBCC is] trying to bring the community together and send a message that we have different backgrounds and different cultures," Razzaz said. "But we are one community, one nation, one country, which is the United States of America."
Jihad Al-Dajani, 33, who practices the religion in Quincy, stood behind the Palestinian table at the festival, which displayed clothes and sculptures along with stickers and flyers that read, "Palestine. Dying to live." 
Al-Dajani said the festival is a good way to bring members from different mosques together.
"[As] Muslims that grow up here in Boston or the U.S., sometimes we get taught the older styles and we grew up in the newer style," Al-Dajani said. "So this mosque is more like an open-minded concept."
Photographer Claire Beckett, who attended the event, has been involved in Boston's Muslim community for seven years, but doesn't practice Islam. She brought photographs from her series, "The Converts," to the event, which showcase Muslims who were born outside of the religion.
One photo Beckett showed in the festival was of a red-headed man, Suhaib Webb, who was the Imam — or spiritual leader — who oversaw the ISBCC for a number of years.
"Despite all the bigotry they were facing as Muslims in our culture, they wanted to be Muslim," Beckett said. "They have that conviction, that faith that supersedes all the things that one might perceive is difficult."
Mohammad Abutha, 48, of Malden, was also at the Palestinian table. He said most Muslim mosque organizations aspire to be like the ISBCC.
"Most of the Muslim mosque organizations, they look up to this mosque to imitate what they are doing," Abutaha said. "Especially for the younger generation, and the older generation, they like this place. Everybody likes this place."