The bright lights of the Cathedral Church of Saint Paul in Downtown Crossing dimmed Sunday evening as Bostonians lit candles bearing the names of deceased transgender people. The collective glow of the candles shone through the darkness as the names of 368 victims were read aloud, casting a somber and unifying mood on the gathering.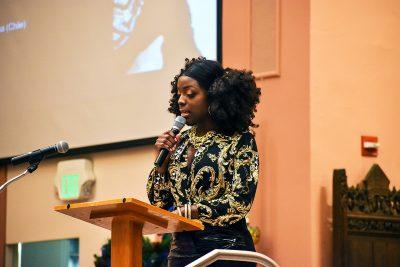 The vigil served as Boston's celebration on the 20th anniversary of Gwendolyn Ann Smith's Transgender Day of Remembrance, established in 1999 to honor the death of transgender woman Rita Hester, who was murdered in Allston in 1998. 
TDOR has since expanded to memorialize all transgender people whose lives were lost in acts of violence and is now observed internationally every Nov. 20.
Mandy Wilkens, co-chair of the Boston TDOR planning committee, said before the event this is notable because it celebrates transgender lives and the transgender community and is not solely a memorial of lives lost.
"I'm hoping this year will be a lot more positive, more forward thinking," Wilkens said, "and thinking about the future rather than dwelling on the past."
The event, which was planned by a volunteer team and was supported by numerous local LGBTQ organizations, had over 250 individuals in attendance.
A basket was passed around for attendees to make donations that supported organizations such as the Transgender Emergency Fund, which raises money to support low-income trans individuals, and the Boston Health Care for the Homeless Transgender Program, which supports around 90 active patients annually and runs a weekly support group. 
In her opening address, Tamara Tucker, head pastor at The Crossing church, said no matter how someone identifies or who they love, everyone is welcome.
After the vigil, six speakers told brief stories about their experiences as transgender individuals and their thoughts on transgender rights, many suggesting their names could have been on the list read aloud.
Pam Klein, co-chair of the TDOR planning committee, said the open mic was particularly impactful because it allowed people to feel validated and heard.
"They really don't have these opportunities to go and share and feel support by a bunch of people at the same time," Klein said. "I think certainly for anyone who's actively in it or planning it, it's meaningful."
The event also featured poetry recitations and live music, including Boston performer Teasha Purdy who concluded the night with a lip-syncing performance of Lizzo's "Good as Hell," a song that promotes self love to reiterate the message of the vigil..
Purdy, a transgender woman, said she was inspired to get involved with TDOR because of her passion to protect her community.
"The message is very, very clear. We've lost too many, one is too many," Purdy said. "People should be able to be whoever they want, they should love whoever they want because it's nobody else's business."
A potluck reception was held after the event, where attendees socialized and reflected together, which Wilkens said represented TDOR's roots as a community hub and reflected the mission's goals.
"[We are] making sure that this event is focused on the community and gatherings of trans people and their allies," Wilkens said, "so we can remember our lost siblings."
Two mental health professionals were available at the event for those who needed it. American Sign Language and Spanish interpreters were also present.
Klein said she hopes this event inspires further action and activism before next year's event.
"It's sort of a social justice issue in terms of people being vulnerable and discriminated against in our society," Klein said. "People's drive to be authentic and to really live their truth despite what can sometimes seem like insurmountable obstacles, just really spoke to me and continues to this day."