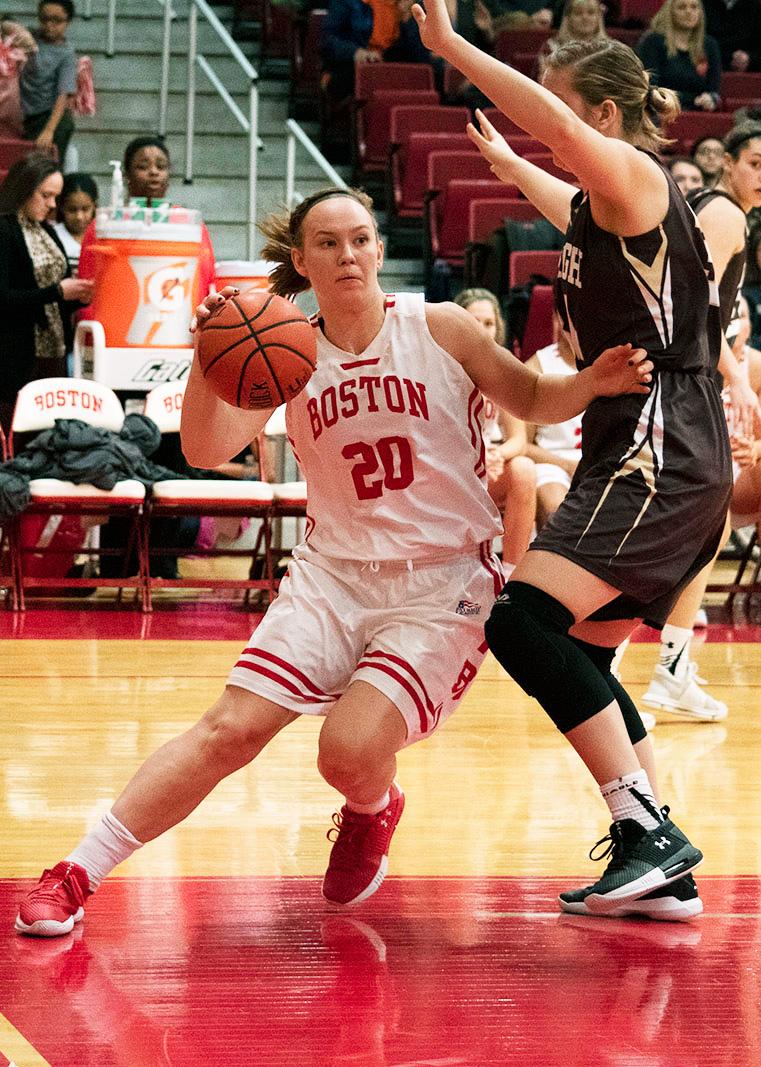 Boston University women's basketball stuck it out against the University of Albany with a close 60-58 victory in Wednesday night's non-conference matchup to cap off a three-game America East road trip.
The Terriers (3-1) improved to 8-7 against America East opponents since leaving the conference and snapped a five game losing streak against the Great Danes (1-4), a former conference rival.
BU senior forward Nia Irving was the star of the night for the Terriers, notching team highs with 19 points, six rebounds and shooting 60 percent from the field. Irving was able to aggressively attack the basket and get key points in the paint, especially during crucial moments late in the game.
BU head coach Marisa Moseley praised Irving's patience and her ability to step up under the basket against Albany.
"I think that [Irving] has been really patient and I told her tonight, 'They're not going to block your shot, you just gotta go take your time and be under control' and I think she was really patient," Moseley said. "[Albany] didn't set a double team tonight, which I think helped her and she just made tough shots in tough moments and I was really proud of her patience."
After two straight road wins against the University of New Hampshire and the University of Maine, Moseley wanted to make sure the team was in check and focused coming into the matchup against Albany.
"This was our first time having a nighttime road game and we had to make sure that we stayed focused. That's always tough when you don't have class and you're in the hotel," Moseley said. "We just came off two road wins and each of these road wins, you gotta earn. So, we wanted to really teach them how to prepare for road games, especially when you're on the road [for] two consecutive games."
After a rocky first quarter, the Terriers were able to get into an offensive rhythm in the second quarter and started building a solid lead. BU's biggest lead of the night came in the second and third quarters when the Terriers were able to stretch the advantage to nine points. BU went 9-of-13 from the field and shot 50 percent from three-point range in the second quarter.
The Great Danes were able to make a comeback in the third quarter and eventually took the lead by as many as seven points in the fourth quarter. 
Albany senior forward Amanda Kantzy made a pair of crucial three-pointers to put the Great Danes ahead 52-47 with seven minutes left in the game. Kantzy finished the game with 14 points. 
Moseley said the way her team handled those crucial moments late in the game was a good test of the young team's composure, especially on the road. 
"For us to be able to go down four or five [points]," Moseley said. "To be able to just stay the course and believe that we were still going to win and make big play after big play and some defensive stops, I think it was huge."
The Terriers stifled Great Danes senior center Alexi Schecter who is ranked fourth in the America East conference in scoring and put up double-figure scoring in three of Albany's first four games. Schecter scored just eight points, four of which were from the free throw line.
Moseley believes the team's ability to stay calm under pressure on Wednesday night's victory shows BU's potential when conference play begins later in the season.
"For a young team to be able to string together a close game win on the road, that's a huge sign of another step towards maturing as a group," Moseley said. "If you can figure out how to win close games on the road, it's definitely going to prepare us more for when we get to league play. So, that's definitely one of the things I'm most proud of."
The Terriers will head back to Boston and take on cross-river rival Harvard University at home on Tuesday, Nov. 26 at 6 p.m.