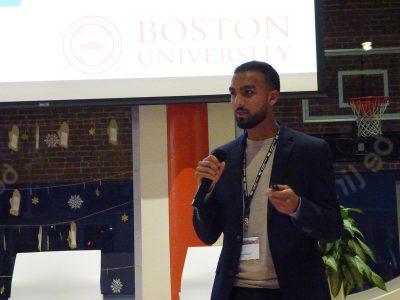 Community Connect, an app and startup pioneered by Boston University students, competed in Massachusetts Institute of Technology's Enterprise Forum during the annual Beantown Throwdown competition in Cambridge Tuesday.
The competition featured student teams from 14 local colleges and universities who pitched their startups to an audience of about 200 attendees and a panel of judges. Each team was nominated by an entrepreneurial center on their campus and was comprised of full-time undergraduate or graduate students. 
Community Connect was nominated for the competition by Innovate@BU. The app "allows users and Social Workers to discover and share health resources in their area," according to their website. 
The startup's CEO and founder, Nevil Desai, a senior in the Sargent College of Health and Rehabilitation Sciences, first developed the idea during his summer internship at Massachusetts General Hospital. 
Desai said with the help of his boss at MGH, he was able to create an online database of healthcare resource information and remove the clutter of physical paperwork.
"We realized that social workers at the Revere HealthCare Center, the place I was working over that summer, they didn't actually have an electronic health resource database," Desai said. "Social workers were individually using binders and Excel files instead of collaborating with one another."
Desai said Raj-Preet Chaudhry, a senior in the College of Arts and Sciences, joined the team in May as Senior Technical Developer. Since then, they've expanded the startup considerably. Desai said he was looking forward to learning about the other group's startups.
"I'm interested to see what other students in the Boston area have come up with because there are a lot of problems," Desai said. "[Beantown Throwdown] really is an awesome way to showcase and celebrate students and startups."
Desai said he sees competitors like himself as ardent endorsers of their startup because they address real-world issues. 
"[Community Connect] can actually impact a lot of people. Specifically, people in disadvantaged situations," Desai said. "I'm passionate that I can at least give those individuals a voice by providing social workers with a platform to do their jobs in a more effective and efficient way."
Winners were announced Tuesday, with University of Massachusetts Lowell ranking first, Harvard University second and MIT third.
Katja Wald, the executive director of MIT Enterprise Forum of Cambridge, wrote in an email the awards this year include a feature as the startup of the week on the homepage of StartHub, an organization that connects Boston startups with one another. 
Other prizes include sessions on digital marketing consulting and access to exclusive events hosted by investment firms. The top two individual competitors, as well as the top ranking groups, won awards.
"Winners will receive a package of prizes intended to help these student innovators move their ventures forward," Wald wrote, "by providing connections to experts in the community, entrepreneurial education opportunities, market visibility, startup tools and more." 
Wald wrote Beantown Throwdown began as a singular competition of innovation between MIT and Harvard in 2013. Then other colleges and universities in the Boston area requested to join and it became an annual Boston-wide event.
Wald wrote the event seeks to foster community innovation.
"What we're really trying to do here is to promote some cross-collaboration between the schools and open the students' eyes to what a great community of support we have here in Boston for early-stage startups," Wald wrote. "Hopefully, that will keep them here and innovating long after they graduate."
Neftali Reynoso, a freshman in CAS, said she thinks Community Connect is moving in a good direction.
"[Community Connect] should continue what they are doing and [Beantown Throwdown] is really going to help get the word out," Reynoso said. "I think that [Community Connect] will help overcome some of the boundaries of who gets good healthcare."
Elizabeth Jones, a sophomore in CAS, said the growth of accessible and updated digital information is necessary for health professionals in the modern age.
"[Community Connect] sounds like a really good program," said Jones. "I think it's always good to digitize, especially moving from paper to digital forms. It seems more organized, progressive and forward-thinking."
Lily Bryant, a sophomore in CAS, said she supports Beantown Throwdown because the event promotes creative problem solving for Boston's complex issues.
"I think [Beantown Throwdown] is a great idea," Bryant said. "I think it encourages new ideas, innovation and getting students to find solutions to current problems."