Boston's homeless cats will have their own Thanksgiving feast this year thanks to a "Catsgiving" food drive initiated by the Massachusetts Society for the Prevention of Cruelty to Animals-Angell.
MSPCA-Angell is running the program from Nov. 15 to Nov. 24, during which they are asking for donations of both wet and dry cat food.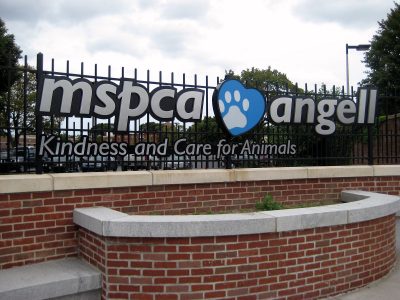 Robert Halpin, director of public relations at MSPCA-Angell, wrote in an email that inspiration for the event came after years of discussion with community members.
"The genesis of the food drive was the conversations we at the MSPCA have been having in recent years with dozens of residents around Boston who do everything they can to care for feral cats in their communities," Halpin wrote. "They asked if it would be possible for the MSPCA to help out by using its name and reputation to secure more attention for the needs of these cats."
According to a press release from the MSPCA, the cat food donations will be distributed to dozens of local residents who look out for stray cats, as well as to families who struggle to feed their own pets. 
People can drop off donations to the food drive at either MSPCA's Boston adoption center in Jamaica Plain or at the Mandarin Oriental Boston Hotel in Back Bay. 
Sophie Dier, director of marketing and communications at the Mandarin Oriental, said turnout has been high since the food drive began last Friday. 
"It's been great already," Dier said. "We've already collected two full bins of food. Hopefully we'll have a really good turnout by the time the 24th rolls around."
A spokesperson from the Ellen M. Gifford Cat Shelter wrote in an email that food drives are extremely helpful, especially ones that are specific supply based.
"Food drives can be very helpful for shelters," the Gifford team wrote. "Most shelters do have wish lists online with specific items they need and brands they use, so in general doing a supply drive based on one of those is probably the most helpful."
Approximately 45,000 stray cats roamed the streets of Boston as of 2017, according to The Boston Globe. 
Halpin wrote the MSPCA often works with different organizations to keep the Boston homeless cat population under control.
"We work directly with spay and neuter volunteers in our community," Halpin wrote, "to trap, neuter and release these cats back into the community."
Mehmoona Khushbakht, 29, of Kenmore, said she believes these initiatives are beneficial for stray animals in need. 
"It's good to take care of the cats," Khushbakht said, "and people are doing good if they are doing [food drives], because the cats are in need." 
Lena Smith, 24, of Brookline, said she doesn't have an opinion on the food drive. 
"I think these drives happen all the time," Smith said. "So I'm pretty used to hearing about them."
, 25, of Brookline, said she would like to see a food drive for dogs as well.
"I mean, why not dogs?" Williams said. "There are cat shelters and dog shelters, so why not have a dog food drive?"