Over 20 students from the College of Communication and School of Public Health have taken part in a fully-funded international travel to report on global health issues since Boston University first partnered with the Pulitzer Center on Crisis Reporting in 2011.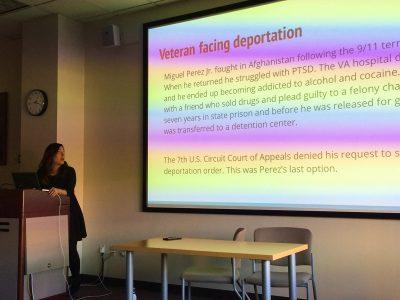 One of these students, Pallavi Puri, a second-year graduate student in SPH, is a 2019 Pulitzer reporting fellow. Puri traveled to several cities in India this past summer, researching the harmful hand-rolled cigarette — or beedi — industry in the country and interviewing its vulnerable workforce of women and children who are facing health problems and economic hardship. 
She came across the story while working for five years advocating for tobacco-control policies.
"I hope my article can be a resource for advocates to break the myths about the beedi industry and enact tobacco-control policies," Puri wrote in an email. "But I also hope that this article sheds light on the rural employment crisis that fosters the cycle of exploitation." 
Puri wrote she appreciates the multidisciplinary aspect of the Pulitzer Center Global Health Reporting Fellowship, an initiative that sponsored 42 other fellows, including BU alumnus Daniel Merino in 2019.
Bridging the gap between scientific data and the human stories behind each statistic is a key concern for Associate Professor of Journalism Anne Donohue, who co-directs BU's Global Health Storytelling program with Clinical Associate Professor of Global Health Jennifer Beard. 
The Global Health Storytelling course runs each spring, providing students with an interdisciplinary approach to sharing compelling stories related to public health and is a BU prerequisite for the Pulitzer Fellowship.
"I think there's a lot of misinformation or confusing information about health issues and climate change," Donohue said. "Getting that data, that public health and scientists are really talented and bringing to the table and putting that into a bite-sized appetizer that the audience will eat is what we're looking at."
Donohue said each person she has collaborated with on this project shares the common goal of making the world a better place.
"I don't think anything I've ever done has changed the world in any hugely significant way," Donohue said. "I have never stopped a war or cured cancer. But I think that it's just a ripple effect, and over time, if we keep telling similar stories, maybe we change the world for the better."
Climate change is the focus of the course for the spring 2020 semester, an issue that resonates globally, but is also rooted in local actions. Although students are restricted to the Boston area, Donohue insists that they are still able to incorporate an international focus.
"Every story that is happening globally probably has a local angle," Donohue said. "If you learn how to cover that story in one place, you can cover it in another place."
Ann Peters, the university and community outreach director for the Pulitzer Center, said her favorite aspects of the fellowship are witnessing students develop their ideas from the pitch they submit in their applications to a weekend trip to Washington D.C. where students who have just returned from their fellowship gather to share their work and experiences.
In the future, Peters said she hopes to strengthen pre-existing partnerships, but also hopes to further diversify the institutions that the Pulitzer Center works with. She hopes this will give more people access to such opportunities. 
"We're always working to care for the partners we currently have and connect and see how we can develop the program further," Peters said. "In terms of both region and types of universities, just getting it out there so people can have this opportunity."
Rachael Kelley, a graduate student in COM, wrote in an email she is interested in covering socioeconomic issues as a journalist in the future, encouraging broadening accessibility and diversity.
"I would love to see more students of color at programs such as these," Kelley wrote. "Opportunities like these are why I applied … BU gives students so many opportunities to better themselves in their craft and as global citizens."
Kelley also attended an information session held at BU's College of Communication about the Pulitzer Center Global Health Reporting Fellowship on Nov. 15. 
"Who wouldn't want to hear about a fellowship," Kelley wrote, "that will fund you to cover any story you want in any country you want!"