Professors shared ideas on how to solve issues in public health at the "Statistics and the Life Sciences: Creating a Healthier World" symposium in the Hiebert Lounge at the School of Medicine Friday.
The event, organized by the Boston University School of Public Health Department of Biostatistics and the Department of Mathematics and Statistics, highlighted the importance of data sciences in today's increasingly interconnected world.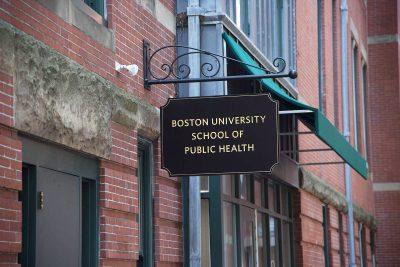 Boston University President Robert Brown — who spoke at the opening of the event — said as a research and educational institution, BU hopes to integrate data sciences into each of its 17 schools and colleges.
"Our goal is to do two things simultaneously," Brown said. "One is to form a community of scholars and grads and researchers who are focused on modern data sciences. But also to put the other leg of that focus squarely in all of our academic units —  to bring data sciences in its applications to all of our research and educational efforts."
In his opening remarks, Sandro Galea, a professor in SPH and organizer of the symposium, said a year of thinking and partnership went into planning this event.
"An event like this takes about a year from conception to actual birth," Galea said. "Longer than a baby." 
Josée Dupuis, a professor in SPH and organizer of the event, said the symposium encouraged audience interaction, starting with a conversation among attendees about the potential for integration of traditional health sciences and the more modern field of statistics.
"The format is different from your typical statistics conference," Dupuis said. "We are hoping that the audience will engage with the panel discussions." 
Joseph Lehar, vice president of Data Science of Analytics and Insights at the Janssen Pharmaceutical Companies of Johnson & Johnson and bioengineering and bioinformatics adjunct professor at BU, shared the work his company was doing to promote data science in the pharmaceutical industry. 
Lehar said computational science and statistical analysis play a major role in the discovery of a new drug by identifying a target. The drug is a piece of biology that is found only within people afflicted with a certain disease.
"[Drug discovery] typically involves a fair amount of experimental work but also computational work," Lehar said. "Molecular profiling is something that traditionally has been done manually but it is increasingly becoming an area where data science can make a big difference."
Neha Gondal, assistant professor in the department of sociology, said social network data — which observes the people with whom individuals surrounds themselves — can be used to model and understand common unhealthy practices within society. 
"The people we know, the people we are connected to, have important implications for a bunch of things in our lives," Gondal said. "This includes what we do, what we think and, from the perspective of this audience, public health consequences such as smoking and drinking, marijuana use, alcohol use, oral health obesity, exercise habits and mental health."
Analyzing data on how social networks can affect lifestyles will help scientists understand these health conditions more in depth and produce possible preventive measures, Gondal said. 
"We need to know more about what aspects of the social network affect our help," Gondal said. "That will allow us to create appropriate interventions and understand this process a little bit better."
The symposium was open to the public and accessible online by live stream. Emily Vu, a freshman in the College of Arts and Sciences, attended a portion of the event and watched some of it through the live stream. 
Vu said she was impressed by the relevance of data sciences in the healthcare field.
"I was surprised by how interesting the talks were even for someone who does not know much about statistics," Vu said. "Being on the pre-med track, I learned how important data science is for public health and how much progress it can lead to."