The largest dance group at Boston University, the Dance Theatre Group, is getting ready to dance their way through the end of the semester in more ways than you could imagine — including using their moves to recreate memes.
The group will be performing its end-of-semester show, Origins 2019, on Nov. 22 and Nov. 23, which will feature a variety of dance styles choreographed by students and faculty members.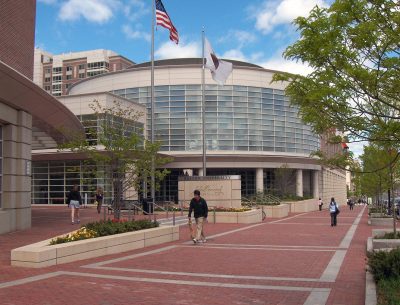 DTG's student choreographers work throughout the semester to recruit dancers, hold rehearsals and craft a collective piece on their own to share at Origins.
Jenn Kochanski, a senior in the College of Communication and public relations chair of DTG, said the dance styles — ranging from ballet to African jazz to pole dancing — reflect the variety of dancers in the group.
Through weekly master classes led by resident and guest dance faculty in preparation for the show, dancers and audience members alike will be transported into another world.
"Whatever style of dance you like," Kochanski said, "you're going to be able to find a piece that you enjoy."
Kochanski said many choreographers have choreographed in the past, while others may be creating a piece for the first time. She said first-time choreographers bring their own unique perspectives into their pieces.
"That's always exciting when new people choreograph," Kochanski said, "because they bring new experiences and new styles to our group."
Claire-Solene Becka, DTG's vice president and a junior in the College of Arts and Sciences, said Origins does not have one overarching theme. Instead, each piece was inspired by a specific theme or message, such as a day at the beach or a collection of memes.
"Every choreographer has complete creativity and creative freedom to do whatever they want," Becka said. "We have this pattern of choreographers really branching out, either just by choreographing and they've never choreographed before, or really pushing themselves in new directions." 
Veronica Escobar Mesa, a junior in the Questrom School of Business, has seen six DTG shows since her freshman year and plans to attend Origins this weekend. She said the variety of featured dance styles is one of her favorite aspects of DTG performances. 
"There's a lot of experimental dance," Escobar-Mesa said. "It's not just choreography, there's a lot of improv as well and a lot of different things going on and that's something really interesting as well."
Becka said the opportunities and experiences she has with DTG have helped her grow as a dancer and performer. 
"I've really felt like I'm able to now perform," Becka said. "Not just do the steps, but perform in modern and contemporary styles really well and that's really exciting for me."
Becka also said she has been able to grow as a dancer through her interactions with other choreographers in the group. 
"I've been able to contribute to the pieces a bit more because my choreographer welcomed our feedback and input," Becka said. "So, being able to help make that type of decision with the show has been really rewarding."
Kochanski said DTG faculty mentors Micki Taylor-Pinney, Ann Allen and Liz Roncka help teach dancers about the benefits dance can have.
"A lot of people at Dance Theater Group came from a dance background that was very competitive and stressful and emotional," Kochanski said. "Micki and Ann have taught us that it doesn't have to be this stressful and that criticism and critique is beneficial."
Kochanski said choreographer spotlights on Instagram, behind-the-scenes YouTube videos about tech week and "Humans of DTG" segments help the group gain public attention.
Becka said she hopes audience members will leave the show with a more informed idea of what dance can look like. 
"People have a lot of preconceived notions about what dance and what modern dance is," Becka said. "I think if people come to the show, they're going to be really surprised about how incredibly funny, cool and powerful it can be."
CORRECTION: A previous version of this article stated DTG is organized only by students. An updated version includes faculty members involved in DTG and additional showtimes.