District Hall, a center in Seaport, buzzed with excitement this weekend as inspirational business figures told stories of individuality, authenticity and relationship-building. They were all seeking to answer one question — how do you build a legacy?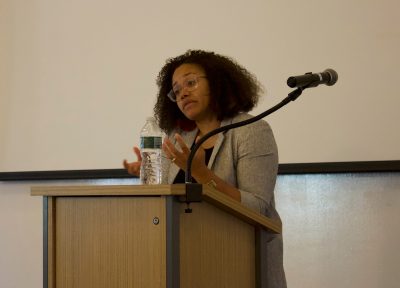 The Young Professionals Network of the Urban League of Eastern Massachusetts hosted their 8th Annual Leadership Development Conference on Saturday. The conference aims to equip Boston's next generation of business professionals of color with the leadership, financial and personal skills they need to create an enduring legacy of success in their careers.
Kristen Halbert, acting president of YPN-ULEM, said the conference was designed specifically to address professional development among young people of color, a niche she said is lacking in Boston's overall discussion of business.
"Boston is one of the wealthiest, most well-resourced and well-educated cities in the entire country," Halbert said. "Because of that, there is a lot of competition for jobs and those resources. And it's important to make sure that the disparities that happen in general between professionals of color and other professionals are lessened here."
Halbert said she was inspired to get involved with YPN-ULEM and give back to society after hearing Massachusetts Congresswoman Ayanna Pressley, a community board member for YPN-ULEM from 2012 to 2014, speak about the power of service and helping the community. 
"I knew that I was super busy and professional," Halbert said, "but there had to be some time that I could carve out to make sure that I was actually serving my community and not just myself."
This year's event included panels and workshops covering local business startups, generational wealth accumulation and discovering passions. All segments focused on a specific aspect of collaborating with others and developing community, aligning with the organization's dedication to inclusivity.
The keynote speaker, Jha D Williams, who describes herself as "an architect by day and a spoken word artist by passion," shared her ongoing personal experience with legacy building and saying yes to opportunities that may be outside of her comfort zone.
"More often than not, I'm going to be asked to do something for the first time," Williams said. "If I say yes, I am bound to learn way more and be more impacted than I ever would have been if I say no." 
Charlene Luma, the former president of YPN-ULEM, said she attended this year's conference because of her passion for the organization's mission and her genuine interest in what each speaker had to say.
"I'm really invested in the success of the organization and making sure they continue to do what [they're] here to do," Luma said, "which is elevating young professionals, making sure they have access to resources in the community but also professional development opportunities."
Luma said being part of YPN-ULEM has allowed her to specialize in certain skill sets and make connections all over the country. 
"[Networking] has always been important to me and I think organizations like this promote that," Luma said. "It's just something I've always been interested in and I find that very important, especially when you want representation and diversity in the workplace."
Halbert said she is excited by the different ways YPN-ULEM has helped professionals of color and consistently given back to the community after being helped themselves. She said there is something "incredibly powerful" about learning from someone who has the same background and has achieved a shared goal.
"I'm really thrilled that so many people would show up on a cold Saturday morning," Halbert said. "Not only to learn about their own legacies, but to contribute to the legacy of all of us as diverse young professionals."