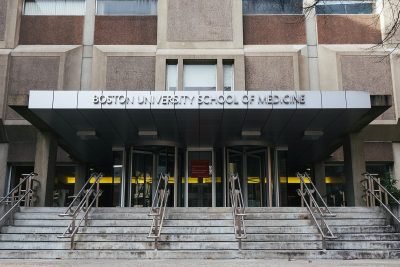 Boston University professor Emelia Benjamin received two awards from the American Heart Association Wednesday recognizing her research in clinical cardiology that has helped lessen the risks that are associated with an abnormal heart rhythm.
Benjamin was awarded the 2019 Laennec Clinician/Educator Award and the 2019 Distinguished Achievement Award. Benjamin is a professor of medicine at BU's School of Medicine as well as a professor of epidemiology at BU's School of Public Health.
This reward is the result of hard work and many helpful mentors, Benjamin said.
"It's very complicated to have a career and to be successful," Benjamin said. "One needs to have not just one mentor, one needs to have a mentoring team because sometimes somebody who isn't even in one's institution can have really important insights into potential choices, career directions, et cetera."
Benjamin was offered a payment as part of the reward but ultimately turned it down.
"I want the [American Heart Association] to have more [resources] for travel grants and more of the work that the organization does," Benjamin said. "To me, being recognized by my colleagues, that was the award."
Benjamin said she hopes her recognition inspires BU students, especially women and those in underrepresented demographics, to enter the field of cardiovascular science.
"I would love to have [more students] pursue careers in cardiovascular health sciences, because cardiovascular disease is the number one killer in the United States for all races and genders," Benjamin said. "I think that it's really essential that we have our clinicians and our scientists look more likely people we're serving."
The Laennec Clinician/Educator Award promotes research for bedside care in the field of cardiology and the Distinguished Achievement Award goes to an individual who has continually contributed to the Council on Genomic and Precision Medicine, according to an American Association for the Advancement of Science press release.
Benjamin serves as assistant provost for faculty development at BUMC and vice chair for faculty development and diversity in the BU Department of Medicine. She is committed to career mentoring and has instituted several faculty development programs at BU.
Sophie Caplan, a freshman in the College of Engineering, said Benjamin's award is exciting and shows the success of BU's faculty.
"I think BU should be promoting faculty accomplishments as much as possible," Caplan said. "It's important to support faculty, which in turn supports students."
Simon Wong, a senior in the Questrom School of Business, said he was glad to hear about Benjamin's recognition and said he thinks BU does a good job promoting faculty accomplishments.
"It definitely makes me proud that I go to a school where we have faculty members who are able to win these high awards and get recognized," Wong said.
Annabelle Underwood, a freshman in the College of Communication, said the achievements of BU faculty impacted her decision to attend BU, and Benjamin's award is another example of this.
"A big part of why I wanted to go here is that there are so many impressive alumni and so many professors who still work in the field that they teach about," Underwood said. "So I think [Benjamin's recognition] is really great."