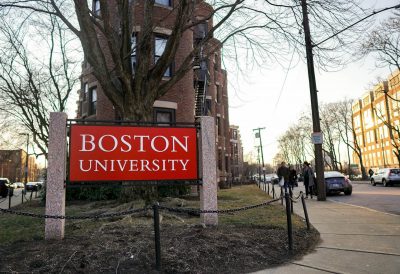 South Campus residences were robbed on four separate occasions in the past two weeks, according to the Boston University Police Department.
The thefts all targeted unlocked apartments at 22 Buswell St., 14 Buswell St. and 46 Mountfort St., according to a BUPD statement released Friday. Items stolen included laptops, phones and clothing items.
BUPD does not know if these robberies were related, BU spokesperson Colin Riley said, because at this point there is no suspect.
This frequency of thefts in South Campus is unusual, Riley said. Theft at BU most frequently occurs when students leave laptops or other belongings unattended in public spaces like a library or classroom building.
"It's an unfortunate occurrence and we try to encourage people not to leave any property unattended," Riley said. "But unfortunately, it does happen."
If students see someone they don't think belongs in their residence, they should report it, Riley said. BU employees generally wear uniforms and don't have a problem explaining why they are in the building.
BUPD specifically cited Thanksgiving break as a time thieves know many students will be away. They advised students to take "special care" to lock up before they leave and to bring all of their valuables with them.
"Make it hard on them," BUPD wrote. "Thieves will look for unlocked doors and windows. By locking the door to your residence and locking any window with access to a fire escape, you dramatically reduce your chances of being victimized."
BUPD also suggested students "help your neighbor" and "know your neighbors" by closing any common doors to the building left open and recognizing the faces in student's buildings.
These incidents are concerning, said Renee Noordzij, a sophomore in Sargent College of Health and Rehabilitation Services, who lives next door to 22 Buswell St., which was robbed on two separate occasions.
Noordzij said she thinks the main problem is that residents, trying to be polite, will hold the door open for people that don't live in the building, giving them access to any rooms that weren't locked.
"It feels rude, but I try to not let people in," Noordzij said.
Ciarra Nafus, a senior in the College of Arts and Sciences, said BU would benefit from a bigger sense of community in student residences to decrease thefts. Students in her 509 Park Dr. apartment bring any packages they see inside the building so they aren't stolen.
"[BU] can probably have more of that community aspect," Nafus said, "but I'm not sure how much more police could do."
Mary Kate Brennan, a junior in CAS, said she always takes the extra step to bolt-lock her door when leaving her South Campus apartment.
"Adding the extra lock makes me feel better," Brennan said. "Like right now I'm going to the gym — I'm not going to bring my laptop with me to the gym."
Elias Kastritis, a senior in CAS, said he has lived in South Campus for two and a half years and has never noticed a theft problem before.
These thefts are a poor reflection on BUPD, Kastritis said, who thinks the university police should have more of a presence on South Campus to prevent these incidents and others — specifically stricter enforcement of pedestrian crossings on the intersection of Park Drive and Buswell Street.
"People never stop for pedestrians," Kastritis said. "The police have looked into my complaints about getting hit by a f—ing car and they haven't come up with anything, why would I expect them to do any better with theft?"