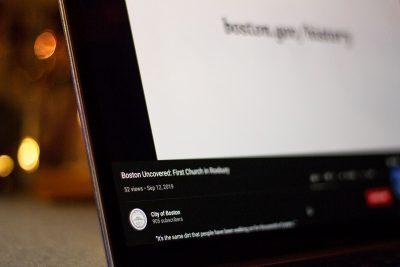 By Alyssa Figueroa and Angela Yang
Boston residents were recently given a look into the inner workings of their city government through a series of video projects that share information about city services and offer a platform to residents' voices.
The City recently launched five video series, all of which can be found on the City of Boston YouTube account and other social media platforms, according to a city press release.
One series, "Boston Uncovered," discusses Boston's history and the actions being taken to preserve it. 
"In Your Shoes," another series, highlights a different individual in each episode who has benefitted from city services, while "City as a Classroom" exhibits various ways Boston Public School students learn unconventionally off school grounds, according to the press release.
"A Changing City" walks viewers through the city's current and upcoming policy ideas to create solutions in the realms of transportation, housing and public safety, among other issues, according to the press release. Meanwhile, "Now Hiring" puts on display different careers in public service, featuring current city employees and their work.
Boston's New Urban Mechanics Office, Press Office and Digital Team also collaborated with video creators GuruAmar Khalsa and Kristina Vicario on a short documentary on the building of the Boston Marathon bombing memorials titled "Re-Marking the Boston Marathon," according to the press release.
The film centered on the production of memorial structures within the city commemorating lives lost in the 2013 Boston Marathon bombing.
Sebastian Ebarb, design director for the City of Boston, wrote in an email these storytelling projects first began two years ago, when the city brought on its first videographer. 
"We brought on two Digital Storytellers this year because we understand the value of telling meaningful stories through video," Ebarb wrote. "We want to connect the city of Boston and its communities."
Ebarb wrote that the city quickly realized the influence of these video projects and worked to expand them.
"We saw that video created a dialogue, allowed us to tell meaningful stories and connect with residents on a different level," Ebarb wrote. "With that knowledge, we knew we had to increase our video output. Our current storytellers continue to bring incredible series that tell impactful stories that are at work in our communities."
Michelle Battista, senior vice president of creative and client services at public relations and digital marketing agency Solomon McCown, was not involved in the video projects but said people today have a "great appetite" for video content.
"As there's more and more content out there, and we're consuming content across multiple platforms in all of these different places all day long, I think our attention spans get shorter every year," Battista said. "We have a shorter amount of time in which to reach people with our message, so we have to do it really quickly and efficiently and video is a great way to do that."
Video messages have reached all social media platforms, Battista said, resulting in a consumer culture that no longer demands studio-quality content to pique audience interest.
Yanet Demsie, 18, of Allston said she believes the video storytelling projects are useful because they create dialogue between the government and the people.
"I think that it's really productive," Demsie said. "I think that it's a lot easier to address issues when you're communicating directly with your people, rather than being reactive."
Joshua Cram, 18, of Allston said he thinks the use of video storytelling as a way to engage the public sounds refreshingly unique.
"Trying out new things, innovation, creativity and bringing that into [government] is something that I think is super important," Cram said. "It's always kind of good, especially for governments, to consider changing things up because we know that they tend to keep things the same even if they're not working."
Glenda Diaz, 40, of Brighton said while she believes the video projects could be beneficial, the city should focus on other concerns.
"Regardless of whatever the City is doing, I don't think they're doing anything for most citizens," Diaz said. "I just would like [the government] to put themselves in our shoes, to literally go back to being a 'normal citizen' and live their life as a normal human being."