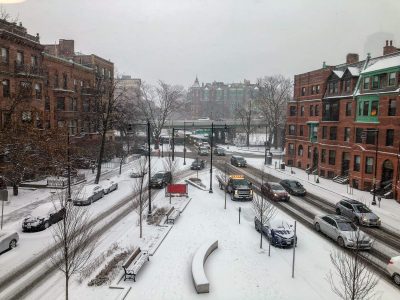 "Winter is coming," the saying goes. Well, Sunday night, winter arrived.
Boston had its first major snowfall of the season Sunday night, with snow, icy rain and temperatures ranging from the 30s to high 20s expected until Tuesday morning.
This comes as much of The Bay State is weathering a "prolonged winter storm," according to tweets from National Weather Service Boston, with much of the state under a winter storm warning or winter weather advisory until 7 a.m. Tuesday.
[5 AM Update] Good morning! We are in the middle of a prolonged winter storm, and here are the expected ADDITIONAL snow totals from early this morning through Tuesday morning. Check out your hour-by-hour forecast to see when you can expect snow: https://t.co/4AwbQ0yOoN pic.twitter.com/hr40vsQr2a

— NWS Boston (@NWSBoston) December 2, 2019
The winter storm is expected to bring two rounds of snow to the City of Boston, with the first round falling Sunday night and the second round expected Monday night to Tuesday morning as temperatures dip down to below freezing, according to NWS Boston.
Sunday night's snowfall totals varied widely across the state, ranging from 16.4 inches in one northwestern Massachusetts town to relatively snowless conditions in southeastern Massachusetts, according to NWS Boston.
[8:30 am] latest observed #snow totals from late yesterday & overnight. Sharp gradient from not much snow across northern portions of #CT #RI into interior eastern #MA to 6-12" over northern MA! The jackpot so far, 16.4" in Rowe, MA (northwest Franklin county). More snow tngt! pic.twitter.com/6T1XjQyFB6

— NWS Boston (@NWSBoston) December 2, 2019
Parts of Boston itself saw two to three inches of snow Sunday night and Monday morning, according to NWS Boston, giving many Boston freshmen their first substantial snow of the season. 
Sections of Eastern Massachusetts also saw sleet and freezing rain Sunday night due to a surge in warmer air, according to NWS Boston.
However, the worst is still to come, as the second round of snow is expected to target much of Eastern Massachusetts, according to NWS Boston. The City of Boston itself is expecting a total of six to eight inches of snow into Tuesday morning, while parts of Northeastern Massachusetts may see up to 18 inches of snow until the storm subsides.
[Snow Accum Forecast] Accumulating snow will come in 2 parts. First part through just after midnight tonight, heaviest N of the Pike; Second part Mon night/Tue AM, heaviest eastern MA. This is total accum into Tue morning pic.twitter.com/cSm82OCpCZ

— NWS Boston (@NWSBoston) December 1, 2019
Despite the wintry conditions, Boston's Logan International Airport only saw a small number of delays and cancellations due to the weather as of 10 a.m. Monday, according to Massport's online flight tracker.
While multiple school districts in western and central Massachusetts did announce school closures due to the winter storm, Boston Public Schools remain open despite "messy conditions," according to a BPS tweet. However, the district will excuse any students who are tardy due to weather.
As for Massachusetts's roads, the state's Department of Transportation lowered speed limits to 40 mph on the Massachusetts Turnpike, I-91 and I-291 Monday morning, as roads remained "slush, snow-covered," according to a MassDOT tweet. However, MBTA service will operate as usual.
State transportation secretary Stephanie Pollack said in a press release Sunday night that commuters should allow extra time and caution for their Monday morning commutes.
"MassDOT and MBTA are continuing to work hard to treat and plow roadways, clear train tracks, and conduct storm management operations across the state," Pollack said. "We are actively monitoring the storm and encouraging individuals to stay off the roads if possible. If you must travel on Monday morning, plan ahead, allow plenty of extra time for your trip and take it slow."