With the spirit of Giving Tuesday in the air, Boston For All, an organization aimed at helping immigrants and refugees, continues to give back to the community.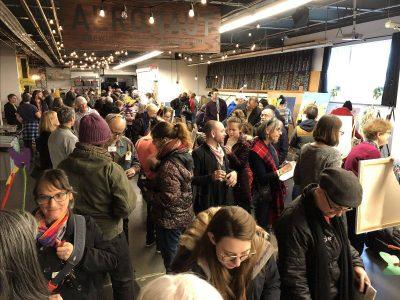 In response to growing polarity and voicelessness, Jeremy Fischer founded Boston For All, a group seeking to bring people of different backgrounds and experiences together to support charitable causes in the city.
"We came together after the 2016 presidential election because of a desire to 'do something,'" Fischer wrote in an email. "We truly are a grassroots group of friends and neighbors who have come together to create community events and raise money for important and effective organizations who promote rights."
With only five board members and only a few years removed from their formation, Boston For All has established routine events for Boston communities, primarily in Jamaica Plain. These events include Dining For All and Art For All.
In mid-November, Boston For All hosted Dining for a Difference. Over the course of one week, six local restaurants offered a fraction of one night's earnings to advocacy organization Kids in Need of Defense, which seeks to provide security for young immigrants traveling alone.
Michael Boezi, one of Boston For All's board members, expressed the group's commitment to interacting and providing assistance to charities in an effort to assist the needy.
"Our work is to support these other organizations," Boezi said. "And [KIND is] just one of a number of different organizations that we've done, most of them are around immigration justice."
Such financial support has been forthcoming through Boston For All and their donors, Boezi said. The group's first Art For All event in June 2019, that supported local artists by staging installations open to the public, raised more than $20,000.
Fischer said that Boston For All initially raised funds primarily for the ACLU but now focuses more closely on Boston charities, such as the Massachusetts Immigrant and Refugee Advocacy Coalition and Redes en Accion Venezuela, which helps sponsor refugees living in Boston.
"Given how troubling our current politics are at the moment, it is important that we all care enough to consider how to help all of the people in our nation," Fischer wrote. "It would be easy to grow tired and, therefore, complacent, but we can't afford to do that."
One major obstacle to the group's reach, however, has been its small size, Boezi said — generating awareness and a strong relationship with audiences is most difficult.
"For building momentum little by little, we got a lot of success to point to," Boezi said. "But also, they're bombarded by requests now, and being small, it takes time to build up trust so that people understand that we're trying to do the right thing here."
Most recently, Boston For All hosted its Art For All 2 on Nov. 17 in Somerville where Boezi said the group raised over $12,000 for the Boston Immigration Justice Accompaniment Network, which provides legal representation for those facing detention or deportation.
By hosting open and free events to the public, Fischer said he believes that Boston For All successfully promotes inclusion and provides easy ways to be involved without burdening participants financially. He said that the group has raised more than $60,000 for non-profits and continues to see growth.
"It's been really cool seeing the power of partnering with others to make positive things happen," Fischer wrote. "It would be amazing if Boston For All continued on as a way for people to come together and participate at whatever level they want to join and give."