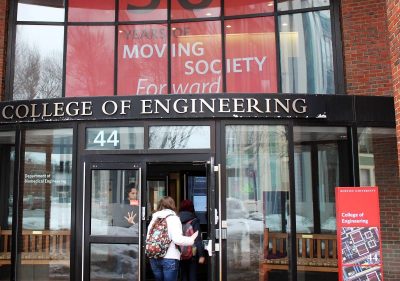 Boston University will host its first climate change workshop to explore potential solutions to climate change using systems and synthetic biology on Dec. 3 and 4.
The event, titled "The Role of Synthetic Biology in Atmospheric Greenhouse Gas Reduction: Prospects and Challenges," was organized by Charles DeLisi, a BU professor of science and engineering, Michael MacCracken, a former senior scientist at the U.S. Global Change Research Program, and Aristides Patrinos, a chief scientist for the Novim Group.
MacCracken said the workshop's main purpose is to brainstorm potential solutions to the problem of climate change.
"We're trying to figure out additional approaches to dealing with this issue and helping policymakers find ways to deal with this issue," MacCracken said. "It's an exploratory workshop."
The workshop is supported by the Alfred P. Sloan Foundation, the Graduate Program in Bioinformatics, and the College of Engineering.
DeLisi said his idea for the workshop came after collaborating and sharing ideas with Patrinos and Daniel Segre, a steering committee member for the workshop and a professor of biology, biomedical engineering and bioinformatics at BU.
While many workshops take at least a year to plan, DeLisi, Patrinos and MacCracken put this workshop together within months. DeLisi said this is partially because every member of the steering committee and administrative board played a large role in planning the event.
The workshop, which will run all day Tuesday and Wednesday, will be livestreamed for remote listeners. DeLisi said he hopes students will take up the opportunity to watch the livestream.
"Just from an educational point of view, students attending things like this or hearing about them or reading about them, it's very important to me," DeLisi said. "And it's important to anyone who's seriously interested in education, which is what our job is here at the university."
Kenneth Lutchen, dean of ENG, spearheaded his school's sponsorship of the event. Lutchen said he did so because of the potential benefits he sees in combining talks of synthetic biology and solutions to climate change.
"The field of synthetic biology lies at the intersection of engineering and biology, and uses engineering principles to design and control biological cells and cellular systems," Lutchen said. "I hope the workshop catalyzes serious scientific efforts to assess the potential of systems and synthetic biology to solve the carbon buildup problem."
Once the workshop ends, the organizers will come together to write a paper on any conclusions reached during the workshop. They will also produce a report geared toward helping policy makers take effective and informed action in regard to climate change.
While there are currently no plans to make the workshop an annual occurrence, DeLisi said the idea of having more workshops in the future will be discussed.
"It's a worthwhile thing to have a series of workshops on synthetic biology, systems, aesthetic biology, and various aspects of the subject," DeLisi said. "It's too much to cover in just one workshop."
Cesar Cardona, a freshman in the College of Arts and Sciences, said he supports the workshop and its initiatives.
"I love the idea of this workshop," Cardona said. "If we're talking about things that really make an impact, I think it can spark some good conversations."
Mira Mashali, a sophomore in CAS, said the educational aspects of the workshop will be valuable.
"I think that educating anybody on anything is really important," Mashali said. "And there's still a lot of people that think climate change isn't real. So if you can educate people and try to change their mind, I think talking about it can make a difference."
Larissa Liang, a junior in CAS, said she was optimistic about what will result from the workshop.
"I think it will probably lead to productive change," Liang said. "How much, I can't really say, but at least something will come from this that can prevent worse things from happening with the climate."