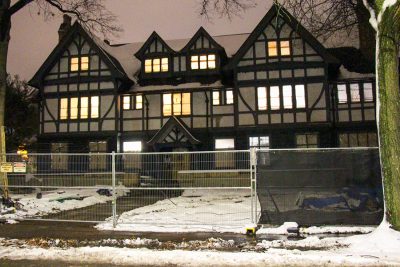 Boston University employees who send their kids to BU's daycare program will see a price increase next year as the university opens a new daycare center in Brookline to replace the existing center at 32 Harry Agganis Way. 
The BU Children's Center currently charges $1,375 per month for kids between 2 and 5 years old, said Christina Rice, the director of the Graduate Tax Program at the BU School of Law who sends her 3-year-old to BU's daycare program.
Rice said the price for the current center is quite reasonable. Compared to other schools in the Boston area, she said she thought the price was attractive.
"The part of the reason we moved her to the BU Children's Center is that it was essentially $600 less than what we were paying at the local private daycare center," Rice said. "So it was a great deal."
Tuition for the daycare center will increase in 2020 to a cost scale ranging from $2,500 per month for infants to $1,775 per month for pre-kindergarten kids, according to the BU Children's Center website. Children who are enrolled currently in the center will be grandfathered in, but only for one year.
The new center is anticipated to open its doors to children by Summer 2020, Kristin Gruber-Grunert, the director of Children's Center, wrote in an email. However, this estimate could change with construction progress.
The current daycare center opened in 1978 and can take care of up to 33 children at once, according to the Children's Center website. The new location at 10 Lenox St. will have room for 96 children.
This increase in capacity will allow the center to care for infants for the first time, BU spokesperson Colin Riley wrote in an email.
BU doesn't offer any financial assistance for its faculty members, however, the cost is lower than at other college daycares in Boston, Riley wrote.
"The rates are 10 percent below those at MIT," Riley wrote, "and 17 percent below Harvard's."
Rice said she is expecting her second child this Christmas, and at first was excited that the new center would provide service for infants. However, about a month ago, Rice was informed about the new rates for the service and is now concerned about how she is going to take care of her future son.
"They're not going to charge the new rates for kids that are currently there," Rice said. "So we get grandfathered in. For my daughter, it's still really affordable to keep her at the BU center. But for my future son, I think my husband is going to basically be a stay at home dad until kindergarten so that we're not paying two daycare bills."
Rice said the new daycare center could possibly keep lower prices by employing student workers from the Wheelock College of Education and Human Development who need practical learning for their careers.
Madeleine Pearce, a freshman in the College of Communication, said she supports building the new daycare center, but thinks that part of the costs for BU faculty should be subsidized.
"I feel like in a way, maybe not the whole thing, but part of the cost should be included in faculty benefits, just for working on campus," Pearce said. "Because it's a demanding job, especially when in this snowy weather, commuting seems like an issue sometimes."
Dhanik Patel, a freshman in the Questrom School of Business, said while the daycare center itself is a good idea, there should be some financial assistance for the faculty.
"The daycare center for infants for faculty is a good idea but I think they should provide more financial assistance," Patel said. "$2,500 a month that's a bit on the pricey side, so I think they should provide some financial support as like the surrounding colleges do."
Steven Le, a freshman in the College of Arts and Sciences, said the need for financial programs should be evaluated after the first year of the new prices.
"They should probably see this year if it works or not," Le said. "Like in the future, like a couple of years after, if [parents] can't use the daycare due to financial reasons, then they should seek to offer scholarships or whatever they offer for financial aid to people — like how Harvard and MIT do."