A group of teenagers Sunday sat in a corner of the main entrance way of the Institute of Contemporary Art, laughing and joking with one another as visitors arrived. They looked like typical high school students, but a number of them were the featured artists of the day.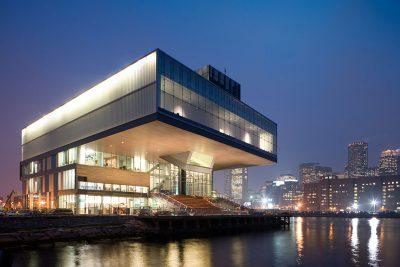 Teenagers from East Boston performed a variety of musical numbers in "…first in thought, then in action: Teens Perform," as part of a series of events hosted by the ICA with the purpose of expanding ideas explored in the museum's latest exhibit, "When Home Won't Let You Stay."
Artist and installment creator Anthony Romero said the installment is important because it gives young adults the opportunity to speak on issues that are directly affecting them. 
"One of the things that was very clear to me from the beginning was that young folks in East Boston have a lot to say," Romero said. "They have a lot of insight into what's happening in their neighborhood. They're kind of equal participants in these issues along with, say, their parents, family members or just adults around them." 
The performance was produced through a collaboration with ICA Teens and ZUMIX, an East Boston-based organization whose goal is to create community bonds through music and creative technology, according to the organization's website. 
Some of the performers featured in the installment met through programs at ZUMIX, like 13-year-old Juan Jose Salazar Pardo and 17-year-old Jade Velasquez who made up the duo Crying Session. 
Salazar Pardo said that this was his first time performing with Velasquez, whom he had met a month prior. 
"When you get to meet somebody who also makes music, it is something that really brings people together," Salazar Pardo said. 
Crying Session performed an acoustic and bass guitar duet that Salazar Pardo said was meant to tell the story of someone walking from Maverick station to Wonderland station in the wintertime with wet hair. 
Even though the song was written with this story in mind, Salazar Pardo said the song's meaning is up for interpretation by the listener. 
"I'm a person who talks a lot of nonsense," Salazar Pardo said. "And I'd like people to give my songs their own meaning and see what they come up with." 
Romero explained that the main goal of "…first in thought, then in action" was to look at big issues in a localized way by focusing on East Boston. 
"The idea was that we wanted to tackle these issues, but we also wanted to center them in the city," Romero said. "A neighborhood like East Boston is experiencing a lot of phenomenon like gentrification and displacement much quicker than the other parts of Boston." 
Other performers featured in the event were Katia Mejia and hip hop group BSOB, which consisted of Abe Caban Reyes, Manolo Aponte and Miguel Novelle Ruddy. 
Mejia, who was performing in front of an audience for the first time, sang an original song and accompanied herself on keyboard. BSOB performed two original rap and hip-hop pieces about what it is like living in East Boston.
Maalika Banerjee, 28 of Newton, attended the event and said she appreciated the teen performers' authenticity and originality.
"I could tell that this may have been the first time for a lot of them performing, but there was a lot of feeling there," Banerjee said. "There was a lot of original work there." 
With the connection to the ICA's "When Home Won't Let You Stay" exhibition, the event looks at migration through contemporary art, as well as the ICA's relationship with East Boston, said Ruth Erickson, the ICA's Mannion Family Curator. 
"It's just a neighborhood that we've been doing a lot of work and a lot of reaching out to," Erickson said. "It has this amazing history of immigration." 
Erickson said she believes that community outreach events like "…first in thought, then in action" are important because they serve to enrich and expand exhibitions beyond the artwork itself. 
"An exhibition has a certain number of objects and a certain number of artists, and once it's installed, it's sort of this closed form," Erickson said. "The programs you can do, the performances, talks, panels and conversations, they're really what can liven and expand the experiences that are offered in the galleries."