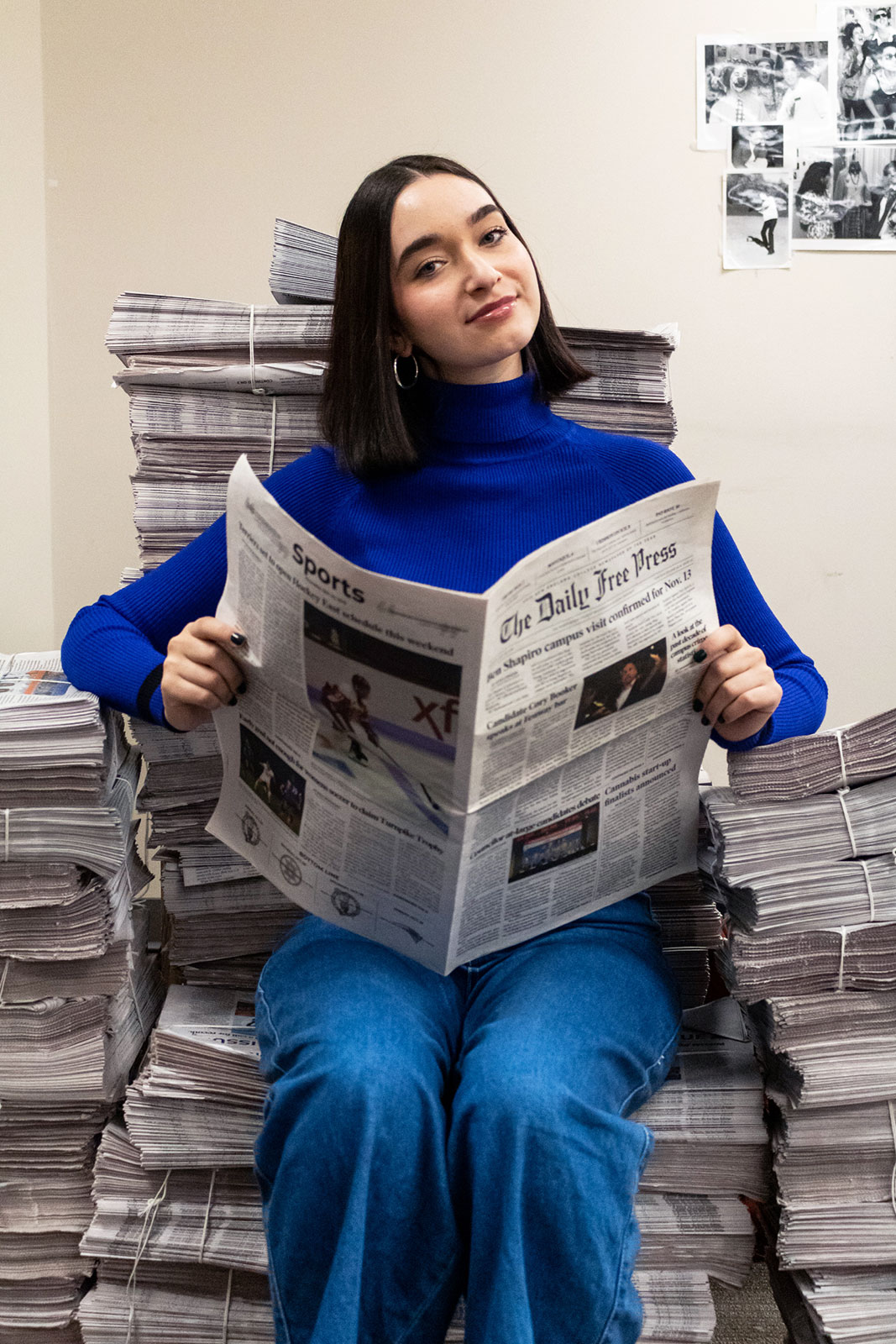 After watching "Gilmore Girls" one too many times, and watching Rory Gilmore rise to the top of her student newspaper, I came into college with a plan: I was going to be editor-in-chief of The Daily Free Press.
I know, it was a lofty goal. But I had a four-year plan — one that was quickly derailed. After being a news writer for the FreeP my freshman year, I applied to be an associate news editor. I was rejected. I couldn't watch an episode of "Gilmore Girls" for weeks.
You can imagine my disappointment. How was I supposed to one day run the paper when I couldn't even secure an entry-level editorial position? My ego was definitely bruised, but I kept at it. I stayed as a staff writer in the spring, took every story I was offered (even if it meant stressed-out phone calls to my mom) and finally became an associate editor. And here I am now, ending my term as editor-in-chief. It's all kind of weird.
My entire college experience has been shaped by The Daily Free Press. So, it's really strange to think it's mostly over now. The thing is, I've really loved every step it has taken to get me to where I am now. 
From going out onto the streets of Kenmore Square late at night to interview residents to working closely with writers and associates as city editor, being a part of the FreeP made me feel special. It made me feel like I was doing something that mattered. 
That's how I want everyone involved at the FreeP to feel —  writers, editors, photographers, layout designers, podcasters and videographers alike. 
The FreeP is special. When it feels like our hours spent in the basement below Insomnia Cookies are depriving us of sleep, a regular diet and a social life, it's important to remember that we are, frankly, really incredible.
This semester, we gained national attention for our coverage of Ben Shapiro's appearance on campus and the protests regarding it. We broke the news confirming his campus visit and followed the topic with accuracy and care. In a time when the ethics of college journalism are being put to question, we stood strong in our reporting — and people noticed. Renowned journalists, BU alumni, students and even The Boston Globe and NPR. 
Our city news section interviewed presidential candidates Andrew Yang and Cory Booker, closely covered Boston City Council elections and followed the state-wide ban on the sale of vaping products.
Writers in the features section covered a plethora of concerts from famous artists, spoke with musicians, interviewed Ben Platt and Julia Schlaepfer of Netflix's "The Politician" and even spoke to the mastermind behind BU's new Rhett bench.
I knew being editor-in-chief meant there would be a lot of responsibility and time spent with my eyes glazing over words on a computer screen. I knew the title sounded impressive. But, I don't think I truly knew how rewarding it would feel to see every piece of content in our newspaper come to fruition. 
Every time a writer got a great scoop or a photographer took an amazing shot, it made me so happy to see new students getting the same incredible experience I got during my more than two years at this newspaper.
To my editorial board: you have all worked tirelessly to make this paper insanely good. Thank you for doing so much, even though I would never let us dim the lights in the office late at night (it's not my fault I have sensitive eyes!). Joel, Alex, Victoria, Nathan, Olivia, Maya, Shubi, Kami and Sofia, you guys are my second favorite group of people (One Direction is the first).
And of course, Audrey. We decided to do this thing together in a sort of blood pact. Me editor-in-chief, you managing editor. I really couldn't have done this without you, even though you're a vegan.
I love the FreeP. Like, so much. All I wanted as editor-in-chief was to make this paper the very best it could be. We are Boston University's only independent student newspaper and it's our responsibility to serve our community. I think we've done that. 
So, if you find yourself with soaring goals and ambitions to rule the college newspaper — go for it. I even got to make myself a throne made of newspaper stacks — and no one stopped me. Well, my dear managing editor tried, but she failed. But really, go for it. Write your first story even if it means crying at a cafe in Beacon Hill (wait, was that just me?). Apply for an editor position and if you don't get it, apply again. 
It's not a big deal to fail. If the FreeP has taught me one thing, it's to keep going, keep calling, keep writing, keep rewriting, keep your eyes open despite how little sleep you got and do everything you can to make something that matters.
Trust me, you will. I did.
Haley Lerner
Editor-in-Chief, Fall 2019