FreeP vs. Food is a recurring series where we send four FreeP staffers to four local food establishments to try a similar item from each place. We give each place a letter rating based on the quality of the food, the service and the ambiance of the restaurant.
This round, we're asking the question: Who has the best festive holiday drinks around campus?
———————————————————————————————————————
Blue State Coffee: Gingerbread latte
By Victoria Bond 
A gingerbread latte from Blue State Coffee fits right in among the cafe's minimalist — and, honestly, underwhelming — atmosphere. 
Blue State left behind elaborate flavors and toppings this holiday season, instead simply adding gingerbread and peppermint to their repertoire of homemade syrup flavors that can be added to any of their drinks.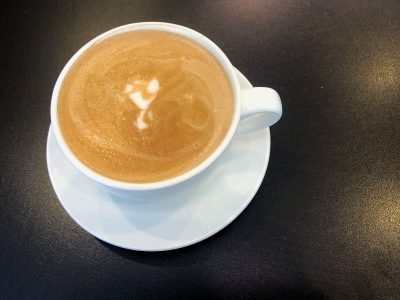 While the simple approach could have made for a delicious twist on common favorites, the gingerbread syrup fell far short of the "holiday drink" benchmark.
The gingerbread flavor was — well, there was no gingerbread flavor. The drink was a textbook latte with a bed of creamy foam atop a mixture of steamed milk and bold espresso, but unfortunately, the praise ends there.
Each gulp left more and more disappointment in the quest for the nostalgic taste of gingerbread. Before the drink could prove itself as a holiday staple, my cup was empty.
There was a distinct — yet generic — sweetness to the latte, but that was the only proof any gingerbread syrup had even been added to the drink. 
Instead of a tinge of toasty gingerbread wistfulness, this latte left my tongue with the same feeling one gets from pouring simple syrup into their drink. Its aftertaste was similar to if there had been no flavor at all: bitter and dry.
While this is a great choice if you're looking for a standard latte, you won't find any seasonal joy in Blue State's bland rendition of a holiday specialty. 
GRADE: C
——————————————————————————————————————–
Pavement Coffeehouse : Cinnamon Fig Latte
By Maya Mabern 
Desperately searching for a perfectly wintery, non-denominational coffee drink? Few seasonal beverages can hold a candle to Pavement's Cinnamon Fig Latte, a beacon in a seemingly endless sea of overly sweet, nauseatingly festive drinks.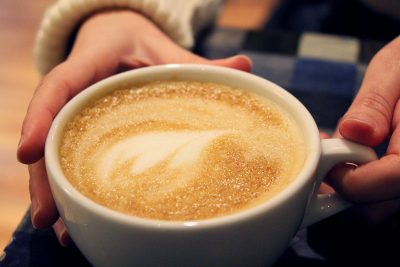 The latte, a barebones recipe of their home-roasted espresso, milk and flavored syrup, is as minimalist as it is satisfying.  
The flavor combination of spice and fruit may sound unpleasant, but Pavement's syrup gets the cinnamon-to-fig ratio perfectly that it barely tastes like you're drinking espresso and fruit in the same gulp. 
The addition of fig brings a new sophistication to the pantheon of seasonal coffee drinks. The subtlety of flavor combined with Pavement's smooth espresso makes for a perfect winter beverage that smells like potpourri, and tastes like the warmth and comfort of home, with just enough spice to keep you interested.
The cinnamon fig latte is ideal for curling up in bed on a snow day (or for pretending that we had one), Christmas tree shopping, or watching "Gilmore Girls" in lieu of studying for finals.  
It provides a false sense of security so common to the end of the semester. No matter how far away winter break seems, Pavement's cinnamon fig latte reminds us that we're in the home stretch. Curl up, take a sip and hold out for one more week.
GRADE: A
——————————————————————————————————————–
Einstein Bros. Bagels: Spicy Mocha
By Sofia Koyama
Though known for its freshly baked bagels, Einstein Bros. Bagels offers a range of drinks perfect alongside any egg sandwich or all on their own. This holiday season, the beloved bagel chain is offering an aromatic seasonal drink not advertised on its menu: the spicy mocha.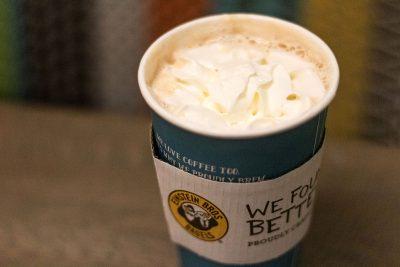 Served in Einstein's familiar blue to-go cups, popping off the plastic lid reveals a dollop of swirled whipped cream atop a deep coffee, deceptively reminiscent of a straightforward mocha coffee. But take one sip and the spicy kick will instantly set the drink apart from the rest.
The brew sings with sharp notes of cinnamon and nutmeg; its strong, bold flavor hits the throat and leaves the mouth tingling long after being washed down. But the familiar, chocolaty warmth of a typical mocha still simmers right below the surface, mingling with the blend of spices for a comforting drink that is as sweet as it is savory. Either slurp up the whipped topping immediately or let it melt away for an even creamier beverage. 
While not ideal for someone with a sweet tooth, the spiciness of the mocha keeps the sweetness from being too overpowering. Instead, the drink is a nice treat, one that carries enough warmth to offset any Boston winter day.
Located in the heart of campus on the basement level of the College of Arts and Sciences, Einstein's is a popular study spot, with yellow lights hanging above colorfully patterned booths and art deco paintings adorning the walls. While usually packed in the mornings, it's easy to snag a seat as the school day dies down.
Einstein's spicy mocha can be enjoyed while studying for upcoming finals, or as a personal hand-warmer to accompany the walk down snowy Commonwealth Avenue.
GRADE: A-
——————————————————————————————————————–
Starbucks: The Irish Cream Cold Brew 
By Alex LaSalvia
There's no better feeling during the holidays than to curl up in a blanket with a soothing drink and watch the snow fall from your window. This is not that drink.
However, the Irish Cream Cold Brew from Starbucks is the drink that can get you through your other December traditions — Christmas shopping marathons and finals season all-nighters — while still keeping you in the holiday spirit.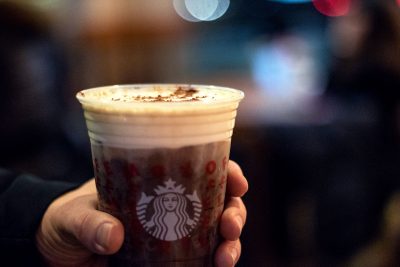 Sure it's another Starbucks marketing gimmick, but the Irish Cream offers a flavor that's totally unique on the coffee giant's menu.
If you haven't tried any of Starbucks's cold foam cold brew drinks you definitely should. The contrast between the creamy foam and the strong smooth cold brew is great (although it doesn't last the more time they have to mix). 
They actually greatly benefit from the new sippy cup Nitro Lids because you get that cream-coffee combo and get to save the turtles without dealing with paper straws (which are the absolute worst) (don't pretend like they're not).
The Irish Cream has those cold foam traits but with a flavor that undeniably tastes like the holidays.
The whole drink has a really nice subtle chocolate flavor, which is surprising because there is only added chocolate in the cold foam. The flourish of cocoa powder on top of the foam is also a nice touch.
If you're looking to get drunk off of holiday spirit, this drink will not help you — obviously, Starbucks did not put actual irish whiskey in this drink. But that flavor still comes through in the cold foam nicely.
Overall, the Irish Cream Cold Brew is a delicious drink with flavors that are surprisingly subtle but cold brew that still packs a punch. It's a great choice if you love a fancy drink but don't have the sweet tooth for the rest of Starbucks's menu.
This drink won't make you feel warm and cozy but it'll give you the kick you need to power through this crazy month.
GRADE: B+