Thanksgiving has come and gone and the December holiday season is in full swing.
To welcome in the holiday season, More Than Words, a bookstore that focuses on employing at-risk youth, hosted nearly 20 shops Saturday to transform their South End location into a gift market for their Holiday Fest.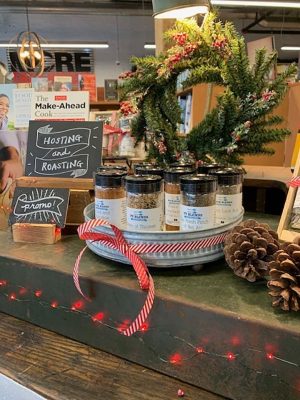 Shoppers perused a wide selection of books and other holiday-themed craft goods to including skincare products, jewelry and various food items such as tacos and cookies. Throughout the event, pop-folk duo Three At Home performed live holiday music to set the mood for shoppers.
Leanne Goff, More Than Words' site director, said the purpose of Holiday Fest is to gain exposure and increase revenue for the nonprofit. 
"For our retail bookstore, it's [our goal] to drive revenue, obviously, first and foremost, but also to bring members of the community into our space to shop and learn about More Than Words," Goff said. 
Holiday Fest was held on Small Business Saturday, an annual holiday held the Saturday following Thanksgiving, in an effort to encourage consumers to shop at local stores.
The local shops at Holiday Fest were selected through an application process, Goff said, where More Than Words' events director evaluated the appropriateness of each shop's product as well as how they complimented each other and the organization's mission. 
One such shop present at Saturday's event was Erazan, an online skincare brand whose products are made with food-grade and organic materials, according to their website.  
Erazan started in the eponymous village of Erazan in Morocco 100 years ago, according to the brand's website. 
Another brand featured at Holiday Fest was the eco-friendly paper company Red + Wolf. The Boston-based company sells a range of products from greeting cards and watercolor prints to various home goods like wine bags and aprons. 
The company's founding concept was to provide direct aid to wildlife conservation, according to their website. For every Red + Wolf product sold the company gives $1 to the Wildlife Conservation Network.
Cape Cod-based chocolatier Chequessett Chocolate was featured as well. Katherine Reed, the CEO and co-founder of Chequessett Chocolate, said Saturday's event was her first time attending an event hosted by More Than Words.
Chequessett Chocolate sells a wide variety of craft chocolate bars and Reed said Chequessett Chocolate is committed to crafting products that are both high-quality and environmentally-friendly.
"We import all organic cacao beans from origin, and then we make it all in our facility," Reed said. "We're small enough that instead of being fair trade, we're actually direct trade. So we travel down to the farms have direct trade relationships with the cow producers that we buy our beans for."
At the event, Chequessett Chocolate offered two bars, both of which are finalists for the chocolate category of the 2020 Good Food Awards. Winners will be announced in January. 
One of the bars is white chocolate with lemon and thyme and one, called the Costa Esmeraldas chocolate bar, features notes of honey and pineapple, according to their website. Reed said chocolate sales during Thanksgiving are especially high due to the dropping temperature and impending holiday season. 
"It's difficult for us to market in the summertime because of melting," Reed said. "We get really excited when the temperature drops so that we can go into outdoor events." 
To celebrate Thanksgiving and give back to the community, Chequessett Chocolate offered an exclusive discount for shoppers at Saturday's event where one could purchase three bars for $20. 
"We don't normally offer that discount," Reed said. "That way people can try our line and share them with their loved ones."