From line-drying laundry to powering off electronics, making an effort to conserve energy might seem like a hassle. However, an app designed for the BU community aims to make these minor annoyances fun and competitive. 
The [email protected] app was created in August 2016 for the BU community to log and develop new sustainable habits, Lisa Tornatore, the sustainability director at [email protected], said.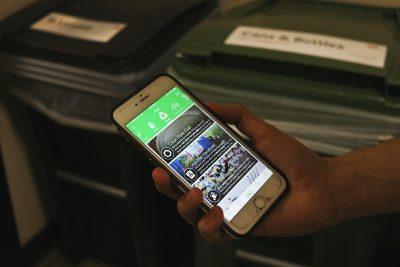 "We can't expect people to use it all the time and log their habits regularly," Tornatore said. "It lends itself to being a habit creator."
When users open the app, they are welcomed by a screen listing dozens of actions to select such as composting and taking the stairs. When an action is "buzzed" in, meaning the user logs the action, they are awarded points and shown the environmental impact of it.
For example, opting for a reusable mug at coffee shops for a year has the same impact as eliminating one bag of garbage, charging 3,093 AA batteries and flushing a toilet 86 times, according to the app. 
Collectively, Tornatore said the 9,000 users who have downloaded the app have saved more than 5 million pounds of carbon dioxide, 11 million gallons of water and diverted 375,000 pounds of waste. 
"It's important for the individual to know their impact," Tornatore said. "It's really important for us, as a community, to be aware of [the actions] of the organizations that we're involved with."
Neha Chinwalla, a sophomore in the College of Arts and Sciences and a resident sustainability leader in Warren Towers, said the app provides positive reinforcement by giving users an idea of what types of sustainable actions they can implement into their lives.
"The app is a tool to help students think about what they can do in their daily routine to be more sustainable," Chinwalla said. "It's just a reminder that in all the bad news you hear about the climate, there's something that is positive like this app, where people on it are constantly trying to do their best and make positive change."
The app also features challenges that track a user's points in a communal leaderboard. Some challenges from this semester have included the Warren Towers Zero Waste Smack-Down, the Net Impact & BU Dining Reusables Week Challenge and the Study Sustainably With BU Library Challenge, with prizes ranging from pizza parties to BU swag. 
Chinwalla said she hopes users will continue to participate in the challenges after seeing some of the prizes teams and individuals can win.
"The point of the challenge is to make some friendly competition," Chinwalla said, "and just show that it's not that hard to do, so it's easy to make those changes."
Melinda Stackpole, a freshman in the Sargent College of Health and Rehabilitation Sciences, first learned about the app through its First-Year Student Outreach Project challenge and continued to use it for another challenge at Warren Towers. Stackpole said she was more active on the app during the challenges, but continued with those habits without always logging it.
"A lot of things that I did during FYSOP to win the competition, I kept doing them anyway," Stackpole said. "I just haven't been buzzing them as much, but I still do them."
Jake Rojas, a junior in CAS and the C Tower winner of the Warren Towers Smack-Down, said he earned 55 points during the challenge and won a set of bamboo utensils. 
Continuing to incorporate challenges, Rojas said, would increase participation within the app.
"Especially I think if you focus more on getting participants in the freshman dorms that will carry out as they become sophomores, juniors and seniors," Rojas said. "And then they'll be inclined to participate in competitions later on, especially the whole incentives to it, like having prizes."
Aliya Zwyer, a freshman in CAS, also learned about the app through FYSOP and said that while it introduces students to sustainable habits, it won't necessarily make BU more sustainable in the long run. 
"I don't think the app itself, like having it on your phone, is going to allow someone to be more sustainable," Zwyer said. "I think it's just that it shows you your options, and then you have the app on your phone. It doesn't  do that job for us."
Through her role as sustainability resident leader, Chinwalla said she wants to bring students together in sustainability. 
"I want to engage as many people as possible and just empower them to make their own decisions and to think long term about sustainability," Chinwalla said. "Thinking sustainability is thinking long term. Because even though it might not be the most convenient thing, it's best for the planet and for people."
CORRECTION: A previous version of this article stated the app was created in August 2015. An updated version states the app was created in August 2016.