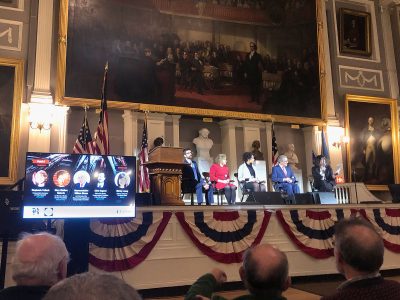 Every day, residents of Greater Boston go through the same routine — wake up early, get in the car and wait in some of the worst traffic in the country. 
The Boston Globe's Spotlight team, the newspaper's award winning team of investigative journalists, joined a panel of transportation advocates and city officials Tuesday to talk about why the city's residents and commuters are forced into hours of congestion every day.
The forum was a follow-up to the Spotlight team's three-part series, "Seeing Red," that explored the reasons behind and consequences of the city's daily congestion. The investigation covered how politicians, employers and the modern ride-share technology all have a role in worsening traffic.
Panelists spoke on a wide array of topics including ways the city can reduce congestion and and how traffic can have an unequal effect on minority socio-economic groups.
Adam Vaccaro, transportation reporter for The Globe and a panelist at the forum, said to The Daily Free Press the first step to reducing congestion is a shared responsibility to use public transportation.
"When we were working on this project, we had this cartoon we looked at a lot," Vaccaro said. "It was a bunch of people sitting in their cars behind each other in a big traffic jam and they all have a thought bubble coming out of their head that said, 'if everybody else would just get on the bus, I wouldn't be stuck in this traffic.'"
The forum worked to answer how to make public transportation more attractive and accessible to the public. One proposed solution was inspired by London and Stockholm, Sweden's use of "congestion pricing" which encourages commuters to utilize public transportation by charging drivers a fee if they use the road during peak traffic hours.
Chris Osgood, Boston's Chief of the Streets, Transportation and Sanitation, said during the event the city is ready for major change and would be open to a congestion charge. 
"Now is a moment when we have to be taking bold steps," Osgood said. "We're open to anything."
But Stephanie Pollack, secretary and CEO of the Massachusetts Department of Transportation, said during the panel while congestion pricing might work for Boston, the plan is not a be-all, end-all solution.
"It's a tool in the toolkit, it's not a silver bullet," Pollack said. "There are parts of Massachusetts where pricing doesn't make any sense." 
Instead, Pollack said another solution would be to implement "managed lanes," which would lessen congestion by creating dedicated express lanes on highways that drivers would pay a toll to enter.
"Something like managed lanes is a more productive way," Pollack said. "It's not about punishing people who have no choice." 
Throughout the 90-minute panel, one topic that triggered much applause from the audience was the issue of promoting racial and economic equity in public transportation.
Mary Skelton Roberts, co-director of climate at the Barr Foundation — which awards grants for the arts, education and climate protection — said bus riders tend to be older or younger residents who are often of color and low-income.
Pollack agreed with Roberts and said that of the residents who did take the bus, people of color tended to have lengthier commute times.
"Black bus riders have longer commutes than white bus riders," Pollack said. "Here's the other fact that nobody includes with that: black [bus] drivers have longer commutes than white bus drivers."
Why? Boston's affordable housing shortage, Pollack said, which pushes lower-income racial minorities further away from the city in search of affordable rent.
"The fact is that we don't build enough housing that people can afford near the jobs that they're qualified to hold," Polack said. "That is the fundamental equity issue that shapes our transportation system."
The forum also featured a question-and-answer segment in which attendees submitted questions online and in-person. The submissions raised concerns ranging from costs to bike and pedestrian safety. 
Roberts said cheaper access to the MBTA system should be a priority. 
"I do think we do need to make public transit at least free, if not low-cost," Roberts said. "If you're a senior citizen, if you're young, you should be able to find public transit without paying exorbitant amounts."
The MBTA system already provides discounts for youth, elderly and disabled riders, Pollack said in response. Regardless, she said the cost of transportation isn't the biggest concern for riders.
"The number one request is better service, not lower fares," Pollack said. 
State Rep. William Straus, chairperson of the Joint Transportation Committee, said making the MBTA free would not be an effective solution, as the issue of accessibility was a multifaceted issue that would not be solved by eliminating fares.
"You can't put a cost of a system on any one part of it," Straus said. 
Even if the MBTA were free, Osgood said such a solution will not fully address the congestion problem, as congestion problems would persist because people use Uber and Lyft despite public transportation being available.
Pollack said the state has been adding miles of bike lanes to encourage cycling as an alternative to vehicular transportation, with plans for more in the future to encourage cyclists.
"There's a huge amount of potential," Pollack said. "But we also need people to feel safe when they walk and bike." 
Jennie Halperin, 31, of Jamaica Plain, attended the forum and said although she thinks biking is the most efficient way to get to work, she still worries about safety.
"Why can we take a right on red in Boston?" Rose said after the event. "It's a constant menace to bicycles. Even some of the protected bike lanes with buses, buses come in and out of the lanes. It feels dangerous, feels scary."
Beyond the conversation, tangible action is important, Roberts said. 
"Let's figure it out," Roberts said. "Let's move on to the next page. We got to stop talking about it."
Attendee Roy J. Harris Jr, 73, of Hingam said he was disappointed by the complacency of the state's politicians.
"I thought the most surprising was to find individual success stories and how little Boston had done to look at best practices," Harris said before the forum. "And that's an embarrassment to a city like Boston."
John A. Businger, a former Massachusetts state representative from Brookline and current vice president of the National Corridors Initiative, a transportation advocacy group, attended the forum. He said he was disappointed to hear no mention of the North-South Rail link, a proposal to build a commuter rail tunnel connecting North Station and South Station in Boston.
"They talk about regional solutions, but there was no talk here about the North-South Station rail," Businger said after the event. "We are the only place in the country where you can't get from one side of the big city to the other. That's a big issue. Nobody talks about it."
Despite remaining concerns, Osgood said after the event that the city has been actively working to improve its traffic infrastructure.  
"I think we're actually very much on the right track," Osgood said. "I think there's a lot more that we need to do."
To make progress, Roberts said the city must shift its view of the transportation system. 
"We have a defeatist perspective," Roberts said. "Change the narrative. Don't talk about what's not working, tell us about what can work. Talk about what the system can deliver and what you want."
CORRECTION: An earlier version of this article quoted State Rep. William as saying the MBTA's  "operating and upkeep costs should be shared by multiple parties," which was a mischaracterization. The story has been updated to say "the issue of accessibility was a multifaceted issue that would not be solved by eliminating fares."