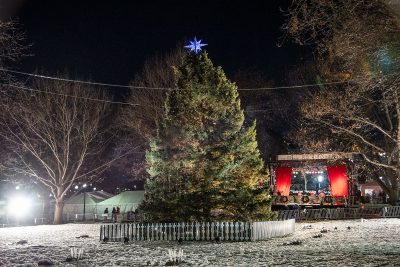 Country music legend Dolly Parton made a surprise appearance at the 78th annual Boston Common Tree Lighting — an evening filled with music, food and lights.
Crowds of people huddled in the 34-degree weather to watch performances from acts including rock band Neon Trees, the cast of the musical White Christmas and singer-songwriter Matt Nathanson, before the 45-foot Christmas tree was lit.
Parton was at the event to promote her new musical, "Dolly Parton's Smoky Mountain Christmas Carol," which is now premiering in Boston's Emerson Colonial Theatre.
"Hello Boston! Merry Christmas everybody," Parton said. "We've got a lot of country music, some songs I've written hopefully you'll enjoy, so if you're not coming tonight, we're going to be there several days so come and see us one of these nights, okay?"
Attendees fended off the cold with warm fried dough and arepas from food carts and were able to try many free samples such as Hood brand eggnog, Dunkin' coffee and RingDings.
The event ended with a countdown to the tree lighting and a fireworks show that lit up the cloudy night sky. Right after, the jumbotron lit up with lyrics to popular Christmas songs for the whole crowd to sing along to.
Along with the Christmas tree, other trees lit up throughout the Boston Common, transforming it from darkness to a sea of multicolored lights.
The tree at the Common is donated every year from Nova Scotia, Canada, a tradition going back 48 years as thanks for Boston's help in the aftermath of the Halifax explosion in 1917, according to the City of Boston Website. This year's tree was donated by Desmond Waithe and Corina Saunders of Chance Harbour, Nova Scotia.
Samantha Oldroyd, 26 of Malden, said she's lived in the area for three years and doesn't know why it took her this long to come to the tree lighting.
"I only caught the tail-end of it, but what I heard was great," Oldroyd said. "I really liked the sing-along, I thought that was really fun."
Frantz Roselus, 47 of Dorchester, said he thought the event was wonderful but would have liked if the musical acts were more dynamic.
"I prefer the music a little bit louder, get everybody involved," Roselus said. "It just stayed in one place."
Alyson Grine, 27 of Back Bay, said she had never been to the Common tree lighting before but enjoyed the event and thought the musical performances had good variety.
"There was a lot of joy in the air," Grine said. "I think it brought the crowd together."