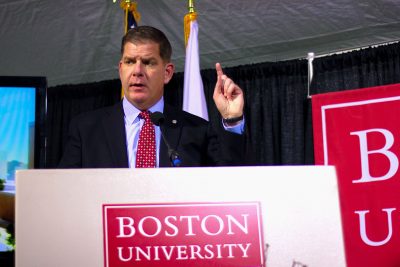 Boston Mayor Martin Walsh joined Boston University President Robert Brown at a groundbreaking ceremony for BU's Center for Computing and Data Sciences, a planned 19-story structure that will be built opposite of Warren Towers.
The new, 305-foot building, which will be built on the site of the current Granby Parking Lot, will house the university's mathematics, statistics and computer science departments and boasts nearly 350,000 square feet of space and will be entirely fossil-fuel free, according to BU Today.
University Provost Jean Morrison and Chair of BU's Board of Trustees Kenneth Feld also participated in the ceremony, which took place in a large, white party tent located on the upcoming construction site, BU spokesperson Colin Riley said.
"It was a simple groundbreaking program," Riley said. "There was a pile of dirt and some shovels, and four people — Jean, Bob, Ken and Marty Walsh — shoveled a little dirt."
The ceremony also included a reception for the building's architects and the departments that will be housed within the new center, Riley said.
The university first announced plans for the new building in the fall of 2018, with the Board of Trustees voting to approve construction plans in September of 2019, according to BU Today. Construction is scheduled to begin during the spring of 2020 and is expected to be fully finished by the summer of 2022.
The university faced some controversy over the building's shape, which was designed to look like an off-set stack of books. However, the design was unanimously approved by both the Boston Planning and Development Commission and the Boston Civic Design Commission, according to BU Today.
To facilitate being fossil fuel-free, the building will feature a wide array of environmentally friendly technologies, including insulated glass windows and 31 geothermal wells that will provide heat to the entire building, according to the building's website.