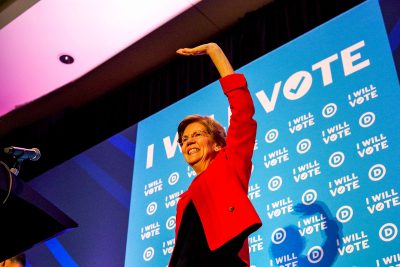 By Matthew Sensabaugh and Gabriella Finocchio
The Democratic National Committee held its final IWillVote Fundraising Gala in Boston Thursday evening, where presidential candidate and Massachusetts Sen. Elizabeth Warren made an appearance to speak to the crowd.
The gala featured also DNC chair Tom Perez, DNC vice chair Michael Blake and Massachusetts Attorney General Maura Healey, the last of whom officially endorsed Warren's campaign in September. Each spoke on the importance of voting out President Donald Trump in 2020.
"It's not just me. It's the whole team I got in the fight," Warren said during her speech. "I supported 130 democrats running for Congress and over 30 Senate candidates."
Speaking to reporters afterwards, Warren said that billionaire candidates such as Michael Bloomberg are "buying their way" through the election, which she said hurts America's democracy.
"We're going to have an America that works better and better for billionaires and leaves everyone else behind," Warren said.
Warren also said fellow candidate Pete Buttigieg, mayor of South Bend, Indiana, should open up his private fundraisers to allow reporters to record what's being said.
"Those doors shouldn't be closed," Warren said. "And no one should be left to wonder what kind of promises are being made to the people who have been pulling up big bucks to be in the room."
Perez said to The Daily Free Press that the DNC has made major investments in energizing high school and college students to vote since his election to the chair in 2017.
"When we engage young people and persuade young people they are our secret weapon," Perez said. "When young people vote, Democrats win."
Perez also said that Democrats still need to improve youth voter turnout. The vote went up 15 percent among youth in 2018, according to Perez.
"So two in three young people didn't vote," Perez said. "While I'm thrilled that we made incredible progress, we've still got more room for improvement."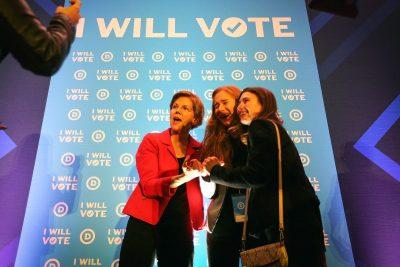 Despite a recent Axios poll showing Vermont Sen. Bernie Sanders surpassing Warren by almost 7 percent as the most favored candidate among college students, Healey told The Daily Free Press that after having worked with Warren on student debt issues, she believes Warren is the most qualified to tackle the crisis.
"She led the work to sound the alarm on the student loan debt crisis," Healey said. "So she really is the person with the most knowledge not only the problem, but also the solutions."
Blake said in an interview he has faith Warren will prove electable by convincing the electorate to listen to her policies.
"I think people recognize the disaster of Trump; I think people are ready to listen to Warren's economic message," Blake said. "If she is the nominee, she will be an incredible force because people realize that what's happening right now is not working."
Boston Celtics Center Enes Kanter attended the event, and said he was a fan of Warren.
"I love her policy, I love her energy," Kanter said. "I love what she stands for and I'm all for her."
Kanter also tweeted afterwards to thank Warren for their conversation on human rights violations in his home country of Turkey. 
Attendee Orla Levens, 19, is a student at Northeastern University and has been working to increase enthusiasm for Warren among students at her school.
"I volunteered at an event in my hometown," Levens said about her initial involvement with the campaign. "And then I brought the energy I had for the senator back to Boston and started the Students for Warren chapter at Northeastern."
Priya Samant, 43, of Wayland said she worked on the technology and innovation policy team for Hillary Clinton's campaign in 2016 and was pleased to hear Perez and Blake speak about the importance of cybersecurity.
"The public should know what's happening and how the DNC is building up infrastructure," Samant said. "Data and cyber security are very important things."
Art Gordon, 30, of Roxbury said Warren's policy on student loan debt will be helpful to his generation.
"For many people, especially people like me and people of color," Gordon said, "her policy will really help us economically in terms of owning our own homes and doing different things economically."