Annual nighttime arts festival Illuminus was held Thursday and Friday in Downtown Crossing, showcasing many politically-tinged light installations.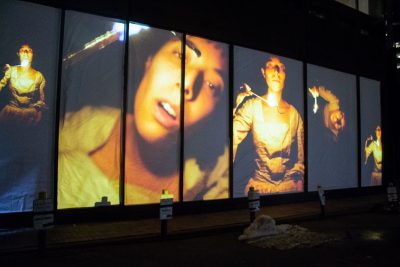 All of the pieces at the event utilized modern technology, ranging from projectors to video cameras, in some capacity to display the art pieces and bring the viewer into the artwork. 
Signify, a lighting-design company, worked with artist Alex Furlan for his art piece titled "Interlux" which connected to an app and allowed attendees to interact with the installation by changing its hues.
Jim Anderson, the global market segment manager at Signify, said he helped put up some of the pieces at the Illuminus event. 
"You actually can download the app and change the content," Anderson said.
Jeff Grantz, Illuminus founder and director of Creative Technologies at Design Communications, said he founded the event in 2014 because he felt that many of his friends who were artists did not have a proper platform to showcase their work.
"Through a lot of conversations, we started talking about what can we do to activate the city," Grantz said. "So, the idea was to use the city as our canvas and turn it into a gallery, essentially, and also, in doing so, give artists a bigger, better canvas to present their work on."
Catherine Siller's piece, entitled "#buynow," commented on social media influencers and the spread of corporate interests within digital platforms by projecting onlookers into the digital display through a video camera. 
"An Ecology of Worries" by artist duo Caitlin & Misha, "consists of several animated characters speaking worries that were synthesized using various machine learning algorithms," according to Illuminus' website. 
"I'm worrying that my future is up in the air," said one of the abstract depictions of fear in the installation. "I am worried at the end of the day that I am killing people instead of trying to help people."
Seth Pearson a 26-year-old student at the University of Maryland, attended the festival and said he had mixed feelings about some of the artwork. 
"So, I'm kind of neutral on [Illuminus.]," Pearson said. Depending on where I look, I see things I like and don't like. Overall, it's not a bad thing, not a bad event. 
Shawn Faherty, creative technologist at Design Communications, said he decided to join Illuminus after talking with Grantz six years prior. He was working as a reporter at The Boston Globe when he said he decided to make the switch into the creative arts industry.
"I think new ideas are usually trail-blazed from things like this," Faherty said. "Art is a pathway to get us across to people. Sometimes that's the best way to get the message across."
Faherty also discussed the importance of having an open setting to convey these themes of sociopolitical anxiety.
"For people walking by, it's sort of guerilla art," he said. "It's in your face. There's some artists that just kind of go out and do this type of thing on their own, but at least here we have an environment, in a medium for people to do it in more of a professional, open to the public piece that's advertised."
Outside of individual impact, Grantz said the event was intended to implement a new platform for artists to house their creativity.
"One of the big reasons that this festival is important is that it's intended to be a showcase of talent and creativity in Boston," Grantz said, "as it is as the epicenter for art and the center of technology."