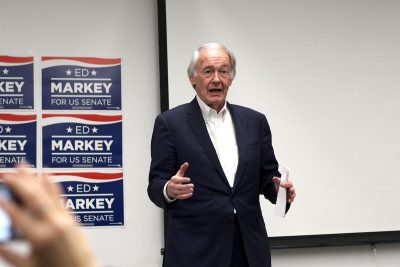 Massachusetts Sen. Ed Markey received an endorsement for his reelection campaign Friday from 32BJ SEIU, a labor union representing more than 175,000 workers in the property-service industry. The union backs a wide range of laborers including airport workers, security officers and janitors.
The endorsement announcement featured several speakers, including 32BJ SEIU Vice President Roxana Rivera as well as current and prospective union members. Markey himself was also present at the event.
The union, whose New England 615 district covers Massachusetts, Rhode Island and New Hampshire, interviewed both senatorial candidates, Markey and Rep. Joe Kennedy III, in order to best determine who the union workers should support. 
Rivera, who led the press conference, said during the event that Markey's work on immigration reform was a major factor in the union's endorsement decision.
"[Markey] has been somebody we've been able to count on in our workplace, in our community, and beyond," Rivera said. "As a majority-immigrant union, including thousands of TPS [Temporary Protected Status] holders who fear losing their status, his fight for immigration reform has been crucial to our members. 
The official endorsement was preceded by short speeches from 32BJ SEIU member Amanda Diaz, a cleaner and immigrant from the Dominican Republic, and soon-to-be 32BJ SEIU member Ababuti Olok, an airport employee and Ethiopan immigrant. 
Diaz spoke via a translator during the press conference about her support for Markey's consideration for workers' lives.
"He has focused on the rights of workers to have a better life and better wages, a good health insurance and other benefits of the jobs," Diaz said. "Sen. Markey is an attorney by trade and an elected official and a supporter of working families by conviction." 
Olok said during the event he was convinced Markey should be reelected after the senator helped in raise his and his colleagues' wages at the airport.
"He just made a phone call to the CEO at the airport and it was great. The next year our payment was changed to $10 and that's because of the senator; he fights for us," Olok said. "The following year it was changed to $11, now we're getting paid $14 and next year it's going to be $15. This is because of our senator." 
In an address to the crowd, Markey said while accepting the endorsement that he was grateful for and proud of receiving the union's backing.
"It's emblematic of the ongoing, never-ending struggle by workers for their rights from corporations in our country," Markey said, "and you set the example for what has to happen if we are going to be successful."
J.J. Martinez, 49, of Brookline said he thinks the union support will be helpful to the campaign.
"I think it's good," Martinez said. "You need the support of the unions if you're going to try and make it anywhere, especially here."
Nour Omar, 35, of Downtown Boston said that because he supports the union, he would therefore support Markey.
"32BJ has done so much for our community through their work," Omar said. "And with everything crazy going on right now, I'd really trust that recommendation." 
Alden McWayne, 18, of Dorchester said he understands the reasoning behind the union's support.
"Markey is big on workers' rights and kind of keeping it in the hands of the people, so the support makes a lot of sense," McWayne said. "I think he's going to make it all the way."