Camila Cabello's second studio album, "Romance," is filled to the brim with emotion. With its 14 tracks, the project succeeds in making all the lonely hearts feel even lonelier as Cabello sings about her own experiences with love and loss.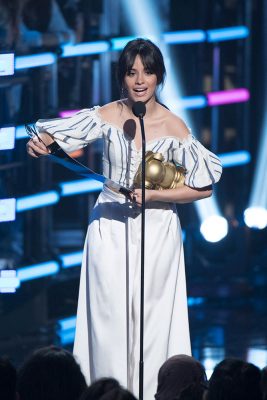 Her first studio album, self-titled "Camila," proved Cabello's prowess as a solo artist following her departure from girl group Fifth Harmony in 2016. Complete with massive hit "Havana" topping Billboard's Hot 100 and personal ballads like "Consequences," the project was a critical and commercial success. 
However, "Romance" tells more of a story, with singles like "Easy," where Cabello talks about her insecurities, including her "crooked teeth" and "stretch marks." Although Cabello is insecure about these things, her partner loves them, which, in turn, helps her become more comfortable with herself. 
The story continues with "Feel It Twice," which feels like its pitying the person in love with Cabello as she reveals that she's no longer in love with him. With soft background music and powerful lyrics, the song hits all the right emotions.
"Señorita," is a collaboration between Cabello and her current boyfriend and fellow pop singer, Shawn Mendes. With its catchy tune and latin influences, "Señorita" portrays what it's like to fall in love with someone you shouldn't be with. The Grammy-nominated single brought the two together years after their previous collaboration, 2015's "I Know What You Did Last Summer." 
The album's sixth track "Liar" captures the awkwardness of falling in love and not wanting to admit it, which is complemented by the release of an eccentric music video depicting a dream-like sequence. Though this song incorporates Latin trap music and a fast-tempoed beat that's hard to resist dancing to, it does get overshadowed by some of the project's heavier tracks.
"Bad Kind of Butterflies" picks up from where "Liar" stops. Cabello sings about liking someone while in a relationship with someone else in this haunted, eerie song. She sings, "I understand if you hate me," and the song comes across as very honest as Cabello makes listeners feel nervous about confessing something they don't even know about.
"Shameless" and "Living Proof," are two other singles that express Cabello's deep romantic affection for her partner. "Shameless" comes across as a little generic but is still an enjoyable listen while "Living Proof" displays Cabello's strong singing capabilities with the use of her falsetto in the chorus. 
Other highlights from the album include "First Man" which portrays the love between a father and daughter. Cabello sings about how her father will always be the first man to love her. 
Cabello channels a bit of her inner Taylor Swift style by opening herself up to the world with this record. Her sophomore album exceeds in following her debut album with its romantic theme, causing the heart to swoon and at the same time pulls at the heartstrings.