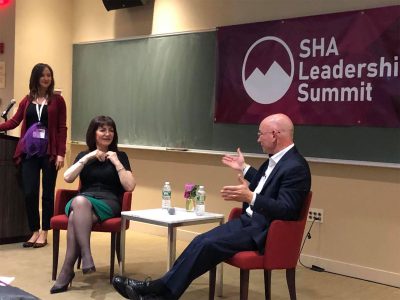 The Boston University School of Hospitality Administration will hold a leadership summit March 20-21 to teach students leadership skills and provide a networking opportunity for professionals in the hospitality field.
The Hospitality Leadership Summit will take place at Hotel Commonwealth and feature speakers who are experts in the field and work for companies such as Aramark, TripAdvisor and American Express, said Leora Lanz, marketing faculty at SHA, chair of the master of management program and chair of the summit.
"These are all major companies in various aspects of hospitality," Lanz said. "This is a really great opportunity for our students to network with the industry, to meet with our alums [and to] hear from incredible leaders about what's going on and what are the hottest topics in hospitality today."
The keynote speech will be given by Marie Perry, the chief financial and administrative officer for Jamba Juice, Lanz said. There are 39 speakers total at the summit, according to the website.
The first day of the summit is open to the entire Boston hospitality community and will feature speakers, panels and a live podcast recording, according to the summit website. The second day is exclusively for SHA students, who will participate in leadership workshops.
Anthony Melchiorri, the host of "Hotel Impossible" on the Travel Channel, will record his podcast "Checking In with Anthony and Glen" live on the first day of the summit.
This is the third year the summit has happened, Lanz said, but this year it has a bigger scope, with an off-campus venue and an expected turnout of 200 attendees — more than double from last year.
The Hospitality Leadership Summit is also an opportunity for SHA to promote itself as the premiere academics in the New England hospitality field, Lanz said.
"This will be an incredible opportunity of learning," Lanz said, "networking with the industry, and frankly for the industry to see our talent and students that are coming out of our program too."
The summit is only open to SHA students and industry professionals, Lanz said, but College of General Studies students who are looking to transfer into SHA should reach out as well if they are interested in attending.
"We want the students to network, and to know that the industry needs their talent," Lanz said, "that their talent is a hot commodity right now."
The summit is sponsored by 11 companies, including Access Point Financial, Hilton hotels and HHM Hospitality, according to the summit website.
SHA will also use the summit to promote their masters program, Lanz said.
"We're really proud of the program," Lanz said. "[We want people] to think even deeper, be more profound and more thoughtful and more insightful about how they approach challenges in our business today."
Lanz said the idea for the summit came from the Dean of SHA, Arun Upneja, who wanted an event for students to build their networking and leadership skills.
"This was something that was really important to him at the local level, for the school," Lanz said. "When the industry got wind of it, it's just evolved even more, so it's really been a result of its own successes."
Nachi Dabhi, a masters student in SHA, said it's good that SHA is emphasizing leadership and networking skills for their students.
"[These skills are important,] especially if it's going to help get them jobs," Dabhi said.
Justin Moi, a junior in SHA, said he would be interested in attending the Hospitality Leadership Summit.
"I think it's a great idea," Moi said. "Really beneficial to students."