The image is immediately clear — the musty smell of old items, the aged, multihued and stained blue carpet, shelves teeming with DVDs and VHS packages. But that's not why film nerds come here. Instead, video stores serve as an anthropological archive of films threatened by extinction.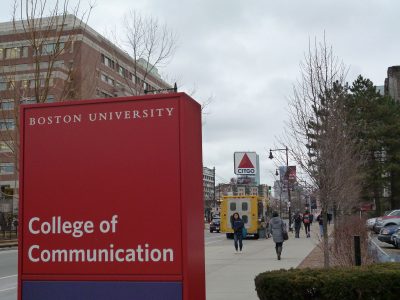 Independent filmmaker James Westby shared his documentary "At the Video Store" at Friday's "Cinematheque" series hosted by Boston University's College of Communication. The documentary explores what the vanishing of video stores means to the film community and was filmed on a low budget across several cities, interviewing current and former video store owners.
The documentary explored how film, an art form bound to the medium of technology, has suffered from the emergence of stores like Blockbuster and Hollywood Video, and then from the proliferation of online streaming services.
"At the Video Store" described customers carrying DVDs and VHS tapes home with an appreciation that the film had been produced. Today, this appreciation for the physical film is lost to the "ether" of streaming services that undermines the artistic nature of film, according to the documentary.
Small business video stores once served as community hubs for film nerds, but the documentary suggested the future of film lacks a passionate communal experience. 
Westby said online film forums are lacking in the cultural richness that was once present in video stores. The decline of these passionate gathering spaces and the effective censorship of film also stunted the dialogue within the film community.
"The online forum [when Netflix started a mail order service] was great and it was more positive than anything that I think has come out since," Westby said. "Film nerds were talking to each other online about recommendations and things."
Employees used to be able to make personalized recommendations, which the documentary said was better than the current system of algorithms that dominates streaming services.
Despite the presence of algorithms, Westby said he continues to get advice from human sources.
"I definitely laugh at algorithms," Westby said. "I'm sure that in some way I'm affected by algorithms and they're probably taking me over in some ways, but I always have the human connection on the side at the same time."
As internet algorithms lack direction among the overwhelming number of films in the world,  Lauren Leger, a junior in COM, said increasing one's film knowledge is more challenging now, without video stores. 
"For a while I've been feeling like I want to up my film knowledge," Leger said. "It's just so overwhelming how many movies there are [online]."
During the discussion following the screening, Gerald Peary, Cinematheque's curator and moderator of the event, asked the audience of primarily film students who had been to a video store during their lifetime. Only one student left their hand down. 
Despite virtually all in attendance having been to a video store before, one student noted there is only one video store left in Boston called Video Underground, located in Jamaica Plain.
Larger corporate video stores, strategically opened near small businesses, caused these competitors to close, according to the documentary. But these small video stores hosted an expanse of artistic films that did not align with the family-friendly demographics and censorship guidelines used by the larger stores.
The documentary explored how the minority of surviving video stores were forced to adopt creative tactics to stay in business. For example, in the threat of closing, many video stores launched Kickstarter campaigns to claim non-profit status. Some businesses conversely installed gyms, ice cream bars and drive-thrus into their stores in an effort to save their benevolent film communities, according to the film.
Peary said as a result, streaming services don't carry an extensive collection of films crucial to the film community that either did not fit family guidelines, or were only ever produced on VHS.  
"This film really makes clear that the world of cinema is more than just the latest release and what's coming up or what you can quickly stream," Peary said. "If you really love movies, you want to know everything."
While film has suffered, Westby said streaming services have increased the efficiency and accessibility of watching, more specifically binge-watching television shows.
"People would come up to me at the store I worked at with Six Feet Under DVDs, like stacks of them," Westby said. "They'd come back for more and they'd watch three seasons of something over the course of three days."
Peary said he believes "At the Video Store" is an essential film for film students to watch to engage with old films.
"I'm a lover of old films and preserving films and feeling this, students should know film history," Peary said. "If you really love movies, you want to know everything and the movie shows you how fun it is to know everything, connect with other people about film history."