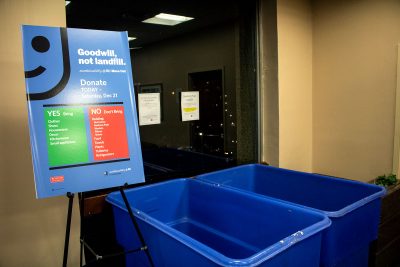 Boston University's "Goodwill, Not Landfill" program accepts unwanted products from clothing to small appliances from students during move-out and donates the items to Goodwill for reuse.
[email protected] aims to reduce the amount of items thrown out during students moving out. Goodwill Industries has partnered with BU for this program since 2010.
Bins are located at 16 different locations throughout campus from Rich Hall to Danielsen Hall. According the [email protected], accepted items to donate include clothes, shoes, housewares, decor, kitchenware and small appliances.
Lisa Tornatore, director of sustainability at BU, wrote in an email this initiative has resulted in over 700 tons of items donated since it began.
"Goodwill, Not Landfill is our signature move-out program where students may donate unwanted clothing and housewares in good condition to Goodwill," Tornatore wrote. "The program is one of the most successful in the country because of our proximity to Goodwill headquarters and the convenience of having 16 locations for drop-offs, most of which are inside large residence halls."
According to [email protected]'s website, the amount of items donated slightly decreased from 2017-18, but the program continues to thrive.
BU spokesperson Colin Riley said the program is great because it can benefit those who need.
"[Goodwill, Not Landfill] is something that will help a family and someone else who gets it for a good price to Goodwill," Riley said. "Whether it's a lamp or a wall hanging, it's terrific."
Elena Gonzalez, a sophomore in the College of Communication, says this program is one of many steps that BU should take towards sustainability.
"Well I think it's really great that we are reusing products that don't have to be wasted," Gonzalez said. "Because that not only saves money but can potentially be more positive for the environment because we aren't throwing them away into landfills."
Tiara Burton, a senior in the College of Arts and Sciences, said BU could do better with sustainability, but programs like Goodwill, Not Landfill are helpful.
"I feel like [BU] does the bare minimum," Burton said. "There isn't necessarily a push on professors or classes or any general administration to use less paper or to cut down on their plastic usage."
Quinn Chappelle, a sophomore in the College of General Studies, said this is a good program, but she would like to see BU focus more on being a sustainable leader.
"BU is focusing more on their image in being a sustainability leader when it comes to colleges rather than actually doing anything," Chappelle said. " I think that's where the discrepancies lie between us actually getting higher up in our numbers regarding sustainability, recycling, environmental concerns."