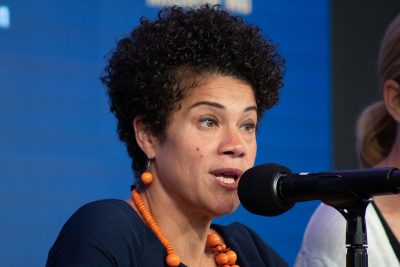 By a margin of one vote, City Council Candidate Julia Mejia defeated opponent Alejandra St. Guillen to win the fourth and final City Council at-large seat after a close race in November triggered Boston's first recount in 20 years. 
Dozens of officials and volunteers convened at City Hall to count over 66,000 ballots from across the city. They were accompanied by both candidates, their lawyers and observers from both campaigns to monitor the counting process.
Mejia won with a total of 22,492 votes to St. Guillen's total of 22,491 votes.
District 8 Councilor-elect Kenzie Bok said she wanted to congratulate Mejia on her win and added that St. Guillen was an exemplary candidate who will continue to be a leader in Boston.
"I'm thrilled for Julia to be joining us on the Council, and I'm really excited to serve with her," Bok said.
Only the top four vote-getters are elected in the race for city councilor at-large. Incumbents Michelle Wu, Annissa Essaibi George and Michae Flaherty took first, second and third places, respectively, by comfortable margins. Unofficial results released that night showed Mejia in fourth and St. Guillen in fifth, with a margin of only ten votes.
The recount results come after a strenuous month of campaigning that saw both St. Guillen and Mejia's campaigns collecting the thousands of signatures needed to trigger a recount.
But after Mejia's one-vote win was announced Monday night, St. Guillen announced in a tweet she decided not to challenge the results.
"After weighing all the options with my team and my family, I have come to the decision to not move forward with a court challenge," St. Guillen tweeted.
#bospoli Last night,I believed that I owed it to my supporters and the voters to fully review the results from the recount before moving forward. After weighing all the options with my team and my family, I have come to the decision to not move forward with a court challenge.1/x

— Alejandra StGuillen (@astguillen) December 10, 2019
Mejia celebrated her victory in a tweet thanking her campaign and supporters for a job well done while emphasizing the importance of voting in local elections.
"Thank you to all 22,492 people who believed in this Mejia Movement," Mejia tweeted. "Today goes to show that every vote counts."
I am so overwhelmed by today's results. Thank you to all 22,492 people who believed in this #MejiaMovement. Today goes to show that #EveryVoteCounts.
I want to thank my team who have been here from the beginning all the way to today's final count. #ItsTime pic.twitter.com/wjSVnGaI1c

— Julia Mejia (@juliaforboston) December 9, 2019
This will be Boston's most diverse city council ever. Eight out of 13 council members are women, while seven out of 13 are people of color. Mejia, who was born in the Dominican Republic, will be the City Council's first Latina member. 
This was also Boston's first recount in nearly 20 years, with the last occurring in 2001, when City Councilor At-large Candidate Felix D. Arroyo placed sixth with only 33 votes less than fifth place Rob Consalvo. After the recount, Arroyo was found to be 68 votes ahead of Consalvo.
A year later, Arroyo became the first council-elected Latino when he was elevated to the position after councilor Francis Roache stepped down.
Will Cariello, 25, of Downtown Boston said while he thinks the recount result is too close to call, he would not support a potential court challenge.
"I think it should stay and majority rules," Cariello said. "I mean, there are times in our democracy where majority doesn't rule obviously, where you need like a supermajority or two-thirds or whatever. But if this is just a simple majority then [Mejia] got it. Sorry."
Katie Delidow, 21, of Roxbury said she would want to call for another recount.
"It's only one vote," Delidow said. "If they got the first count wrong and did recount and it's only one vote, I think we should probably do another one just to triple-check."
Carsen McBride, 27, of Brookline Village said she does not think a recount is necessary.
"I think it should stand by itself," McBride said. "I just think if they've already done a recount, isn't that a waste of resources?"
Joel Lau contributed to the reporting of this article.