As snow coated Commonwealth Avenue Friday, Samantha Power, the 28th United States Permanent Representative of the United Nations, strode on the WBUR CitySpace stage in her black snow boots. Power connected with the sold-out crowd that braved the snow to be there, setting the foundation for the candid yet powerful connection Power would establish that evening in "A Conversation with Samantha Power."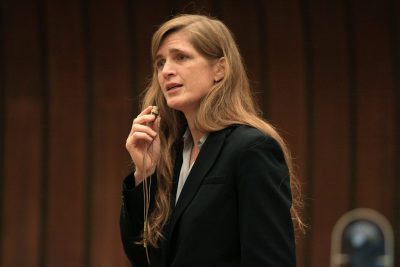 The event focused on Power's new book, "The Education of an Idealist," an autobiography published in September depicting Power's journey from growing up as an Irish-American immigrant to becoming a United Nations ambassador. 
At the event, which was held in conjunction with the New England International Donors, RefugePoint and the Schooner Foundation, Power described her book as "very personal," adding that it includes everything from romance to baseball to Putin.
Power discussed her friendships with colleagues like Russian Ambassador Vitaly Churkin despite their different diplomatic beliefs, work with refugees and foreign policy and how even small actions can make a profound difference.
Power included in her book a goodbye letter she wrote to her then six-month-old son Declan in case she didn't return from Iraq in 2009. She said she included it, despite her inability to read it aloud, to help readers understand the stakes of diplomatic service for the nation in a dangerous country to do so.
"I included it because I realized as I was going back through my papers and journals and things that this is my story," Power said at the event. "My goal in the book is to work in universal moments for the reader and broaden these lessons."
Power spoke about the importance of treating all people with dignity, no matter how drastically different their views may be. She said her obsession with dignity is one of the reasons she strove to meet personally with every ambassador, to ask why they wanted to be a diplomat and listen to their stories to show that the U.S. was willing to learn from them.
In her three and a half years as U.S. Ambassador, Power reached out to representatives from all 192 countries in the UN. She said previous U.S. Ambassadors had never approached dozens of these countries. All except North Korea's ambassador accepted her request to meet. 
"I'm not talking about going to 192 countries,"  Power said. "I'm talking about having a meeting."
Having felt overwhelmed by her lack of voice in policy matters, Power said she decided to make her own path of action, demanding that important, unspoken issues be addressed. Her work to bring more Iraqi refugees to the U.S., she said, is a successful example of using this strategy.
Power elaborated on the idea of taking unique, specific action in response to attendee Paul Rubenstein's, 24, of Brighton, question about what advice she would give young adults hoping to make a difference. She said turning a big problem into something small is an essential first step.
"There's an awful lot that one could be doing at one time," Power said. "But as I look back at my career, it was bursts of specialization [that made a difference]."
Rubenstein said this is his third time attending an event featuring Power. Describing Power as "a real life superhero," he said this talk reinvigorated his decision to start pursuing meaningful career opportunities beyond just money.
"[I] have recently been going through a personal metamorphosis," Rubenstein said. "I'm finding that it matters less to me about having enough money and more about doing something I find fulfilling."
Rubenstein said he was encouraged by how Power's story shows that people can create real change.
"You don't need to be flying off to become a war correspondent, you don't need to be in the White House or in the UN to start making a difference," Rubenstein said. "Like she said, it starts with small things and moves from there."
Nadyeli Quiroz, a graduate student at the Harvard University Graduate School of Design, said she was inspired by Power's discussion of small victories that often have a profound impact on people, such as the Obama Administration's handling of the Ebola Epidemic and Power's "Freethe20" campaign.
"Those stories do matter because those are not the ones that get the attention of the media," Quiroz said. "It's really motivating to hear that something can [make] a difference and what she just said in the end, a small thing means a lot to someone."
John Wagner, a fellow at Harvard's GSD, who attended the event, said he was struck by how Power made her "power personable."
"She's a human being like everybody else and yet has made enormous, impactful decisions and contributed amazing work that really did change a lot of lives," Wagner said. "It's really not a small thing."