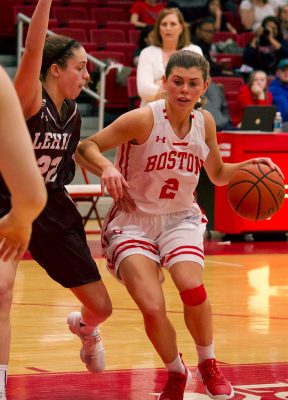 The Boston University women's basketball team finished its West Coast road trip on Saturday with a hard-fought loss against the University of California Berkeley.
The Terriers (3-4) were outscored in three of the four quarters as the Golden Bears (6-2) used a 24-point second quarter to defeat BU, 73-62.
BU head coach Marisa Moseley said a lack of transition defense was the main factor in Cal's huge second quarter.
"It was our transition defense, we kind of got out of sorts a little bit," Moseley said. "We needed to be able to stop the ball and slow it down. They had a size advantage on us, so when they get the ball up the floor quickly and make either layups or throw it inside to their big kids, we didn't have our defense set."
The Golden Bears used nine points off turnovers and scored 14 points in the paint to spark their second quarter run, in which they outscored BU 24-14 to jump out to a 35-22 halftime lead.
Cal used a balanced offensive attack with four players scoring in double-digits to sink the Terriers. For the Terriers, freshman guard Sydney Johnson scored a game-high of 19 points and junior guard Katie Nelson poured in 14 points of her own to go with nine rebounds and seven assists.
The Golden Bears were able to neutralize Terrier forwards senior Nia Irving and sophomore Riley Childs, who were both held to less than seven points in the game.
Moseley said Cal was able to take away the inside game for BU, which forced a change in roles for both Irving and Childs.
"We knew offensively for those two that we were going to have them be more screeners because of the way they guarded with their big guys," Moseley said. "I know those guys needed to go get some offensive boards and that's probably where we could have made up some of those points."
BU was able to claw back into the game after halftime with an 18-point third quarter. With three minutes left in the frame, the Terriers pulled within four points of Cal at 42-38, after Nelson made a three-pointer. 
That would be the closest BU would get, though, as Cal was able to extend its lead to nine points at 49-40 with a three-point shot with 35 seconds left in the third.
Both teams traded blows in a high-scoring fourth quarter with both teams combining for 46 points in the frame. Cal's lead never dropped below seven points as it was able to maintain the lead and finish off the Terriers, 73-62.
Up Next: University of Massachusetts
The Terriers return to Boston this week to finish off their non-conference schedule against UMass, Boston College, Dartmouth College and Northeastern University. The Minutewomen (6-3) are coming off a 75-72 victory against Holy Cross.
Two players to watch on UMass are freshman center Maeve Donnelly and senior guard Hailey Leidel, both of whom are coming off impressive performances against Holy Cross.
Leidel is leading the Minutewomen with 16.6 points per game on the season while shooting .448 percent from the field. In her past three games, she has scored more than 15 points, including a 25-point performance against the University of Vermont.
Donnelly, who is not an offensive threat because she is only averaging 6.7 points per game on the season, is a force on defense because of her 6-foot-5-inch frame. She posted a program record 10 blocks against Holy Cross while also pulling down 12 rebounds in her first career double-double.
Playing around Donnelly is going to be the biggest challenge for BU on Wednesday. Moseley said the game plan is to avoid attacking her head-on, but to use the Terriers' speed and off-ball movement to get by her.
"If you try to shoot over her then that's where she'll get you," Moseley said. "I think we have to face her up and take her off the bounce if we are going to look to score against her. We've also got to put her against ball screens and move her around a little bit defensively, as opposed to letting her sit in the lane and protect the rim."