Starting bright and early, Net Impact Boston takes the common saying "breakfast is the most important meal of the day" to heart to spur conversation about the environment. With fires ravaging Australia and polar ice caps melting at unprecedented rates, such concerns are increasingly at the top of everyone's minds.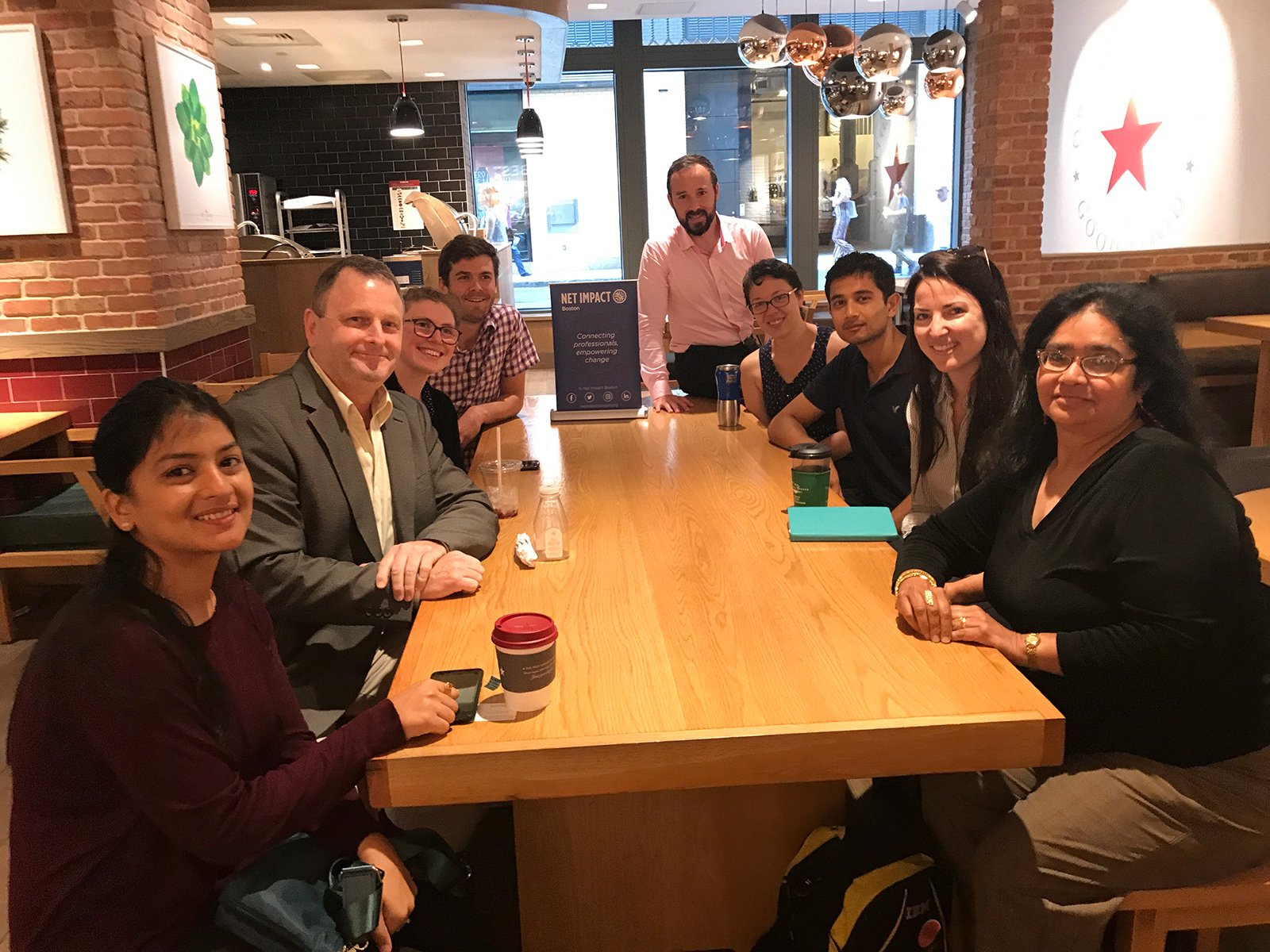 NIB's Boston Sustainability Breakfasts are held monthly in a Pret a Manger cafe at 7:30 a.m. to discuss different components or uses of sustainability, from technology to healthcare. The most recent breakfast, held on Wednesday, centered around building up non-profit boards.

According to Libby Morley, the current president of NIB, the breakfasts are considered one of NIB's "signature events," which are held monthly in Boston. Gathered in small, tight-knit groups, Morley said the breakfasts are worth the early morning discipline.

"It's a great way to start the day," Morley said. "There's always somebody new."

Morley said NIB helps to connect connect professionals and empower change.

"What we're focused on is creating this space for people to network, to learn from one another, to be inspired, to want to enact a change in their daily lives, or maybe through their careers," Morley said. "I think the breakfast is a good example of creating that space."

Maria DiPasquale, alumnus of Boston University Questrom School of Business master's program and NIB's finance and strategic partnerships chair, said connecting individuals with others so they can learn from one another is in the core of NIB's mission.

"We are like a middle man," DiPasquale said. "What we do is we try to connect people together with like-minded organizations who are the experts."

Many people have united through NIB to collaborate on sustainability not only during the breakfast events, but also at other educational, networking and volunteer events NIB hosts. At some of these events, organizations can pay for a table and marketing services.

In trying out a more expensive pricing model last year for sponsored tables, DiPasquale said she knew she was taking a risk. However, not only did businesses still participate, but revenue increased almost threefold. DiPasquale said the increase in funding gave her insight into how valuable sustainability networking is.

"We have the perfect audience for a lot of these organizations," DiPasquale said. "I really feel like Net Impact has always pushed this kind of model where we offer a lot to partners and partners offer a lot to us."

Through a new partnership program, DiPasquale said NIB wants to further grow these connections to allow sustainable organizations to join an official network with similar goals while NIB provides the marketing opportunities to host or speak at events. The program is still in the early stages and will pilot in the spring, DiPasquale said, uniting start-ups and corporations alike.

"We will offer certain services to partners, and they'll be part of our partner network," DiPasquale said. "We're really providing something to the community of Boston and we're also helping businesses that we support really thrive."

The new wave of sustainability efforts by a range of organizations, DiPaquale said, is likely driven by consumers.

"It's kind of a cycle in this way," DiPasquale said in regard to sustainability. "If consumers want it, more organizations are going to have to provide it."

Morley, who previously served as Student Relations Chair for NIB, said much of the momentum in the sustainability movement is thanks to young people demanding change.

"If you look at everything that's going on right now with climate action," Morley said, "that's really being motivated by a lot of younger people to demand greater action."

Morley said BU's chapter of Net Impact is very active. Katherine Calandriello, a senior in the College of Art and Sciences and board member of the BU chapter, said she agrees with the notion that young people are contributing to this sustainability movement.

"Prioritizing [corporate social responsibility] is the future of business," Calandriello wrote in an email. "That is why so many young people are getting involved in addition to sustainability being a concern of newer generations."

Morley said Net Impact can attract groups of all interests who have a drive to make change. She believes that providing space for individuals and organizations in the community to expand the meaning of sustainability in business.

"Whether somebody just found out that sustainability and social impact are important yesterday, or if they're an expert in the field," Morley said. "I want us to be a place where people can meet and learn and have an open mind and then be able to take that back to their companies, take it back to their day-to-day life and make change."