The Boston University Center for Information and Systems Engineering released the lineup for the Spring 2020 host of CISE Seminars and Talks consisting of 11 total events, which start Tuesday and all discuss the topic of autonomous vehicles and new mobility systems, according to the CISE website. 
CISE Seminars, normal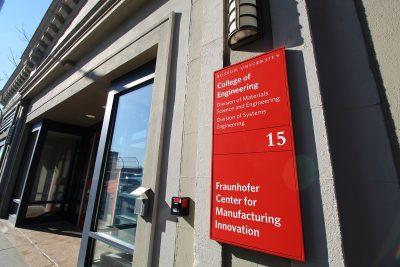 ly held on Fridays, begin with a presentation given by an invited speaker regarding their research. The seminars end with a question and answer session, according to Christina Polyzos, associate director of CISE.
Polyzos said the speaker will typically spend the entire day with the student and faculty host assigned to them, meeting various professors and student researchers to share their findings.
"It's a great opportunity to get people to share ideas and share their research because that's what it's all about in the end," Polyzos said. "If they share their ideas, we can progress and make life better for others."
Arian Houshmand, a PhD candidate in systems engineering and student host for two upcoming CISE lectures, said CISE Seminars influenced his path as a student.
"I like CISE Seminars since they let me get exposure to different research directions and also learn about what other researchers are working on," Houshmand said. "During my first year, the talks helped me a lot to decide on which direction to go for the rest of my PhD."
Polyzos said CISE Seminars are open to the public and they are always looking to widen the range of their impact.
"The attendance is fantastic," Polyzos said. "But even though our attendance surpasses [the threshold] often—sometimes it's standing room only—we still would like other people to know about these seminars because you may be interested in another department." 
Looking at this series and beyond, Polyzos said she has high hopes.
"In terms of the speakers coming in, I'm very optimistic and I always have been about the faculty and who they've been inviting because they are amazing speakers," Polyzos said. "You'll see a lot more research aimed to impact society and improve humans' standard of living."
Houshmand will host the first CISE Talk with Christos Cassandras, head of the Division of Systems Engineering and faculty host for two CISE Talks, on Jan. 21. One of the speakers is Mauro Salazar, a Stanford University postdoctoral scholar.
Salazar said he will discuss the optimization of smart mobility systems, such as the prospect of self-driving cars and Formula One, the highest rank of single-seat automobile racing, as well as how these methods could solve common mobility problems including emissions.
"The goal, of course, is to solve these mobility problems that we are having, and I think we have a lot of very interesting opportunities," Salazar said. "But, how to leverage them in the best possible way when we realize the problems of smart and sustainable mobility systems, is not clear yet."
Salazar added he is excited to be able to share his work on this platform. 
"I'm looking forward, a lot, to seeing what comes out of the discussion afterward from the community," Salazar said.
Will Simotas, a freshman in the College of General Studies, said he thinks the seminar series is a great addition to the BU network.
"Personally, I think it's awesome," Simotas said. "I always hear about all the great and innovative programs the school is running, but I think it's hard to see some things from the ground floor and really talk to the people that are involved."
Noah Fischer, a sophomore in the College of Arts and Sciences, said this year's theme specifically is topical.
"I think it's definitely a good informative opportunity," Fischer said. "Because there's a lot of controversy and a lot of debate, especially in the field of academia, about optimization in terms of the technological world."
Keven Deoliveira, a sophomore in the College of Engineering, said he's often found the engineering department focuses on aeronautics, so he sees the seminars as an opportunity to explore new facets of the field.
"I think it's a good opportunity for people to expand their horizons and see what else is available," Deoliveira said. "Maybe they'll dip their toes into something new and see if they're interested in it."