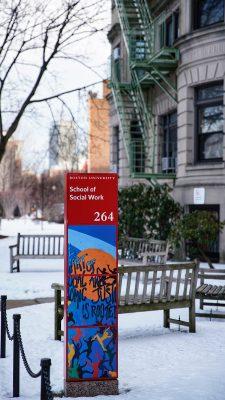 The Online Schools Report, a service geared towards informing students about online education programs around the world, released their ranking of the best online master's programs in social work Jan. 20. Boston University's School of Social Work made the list along with 34 other programs.
BUSSW's program sat at number 28 on a list comprised of 35 schools, all of which were ranked based on student satisfaction, admission rate, programs offered online, median debt, programs in the department and the popularity of the program in that specific school, according to the Online Schools Report website.
The data used to put together the company's rankings is obtained from each individual school's report to the Department of Education, according to Noah McGraw, managing editor for Online Schools Report. They also use statistics from the National Center for Education Statistics and student reports on the specifics of the program using RateMyProfessors.com and StudentsReview.com.
"We try to focus on only the online programs," McGraw said. "We do consider some hybrid programs, so it's online but you have to be on campus for a week, or maybe there's an on campus labs, those will still get considered as long as a majority of the program is online."
The Online Master of Social Work program has been running for nine years, and it places a heavy emphasis on emulating the off-campus MSW programs. 
Mena daSilva-Clark, the assistant dean for off-campus & online programs, said that the program has existed for the past 20 years.
"We actually designed the online course to parallel our very successful off campus program," daSilva-Clark said.
The off-campus MSW programs take place in Bedford, Worcester, Fall River and West Barnstable. Despite the change in the medium of communication, Sonia Mee, assistant director for BUSSW's Online Program, said the experience is similar.
"All of our courses are taught by our in-house faculty, so the students who are in our online programs are taught by the same faculty that teach on campus and off campus," Mee said. "The course content, meaning the syllabus and assignments, are all the same. 
Online Schools Report continues to compile rankings on popular online programs, one of which was Online MSW Programs. 
"We have a list of the biggest [programs] and we're going through them as we can," McGraw said. "It was just time for social work [to be ranked.]"
In terms of how the ranking will impact BUSSW, both Mee and daSilva-Clark said they acknowledge rankings but often turn elsewhere for feedback.
"We do look at rankings to see what's important in the country, but really to see what the best practices are and things another school might be doing that we could consider implementing," daSilva-Clark said. "Always with the mind of making sure it's the best practice and that it's within the Boston University model."
Mee said that students' opinions play an important role in changes to the program.
"The feature we really find important is the consumers' reaction to our program, so our students' feedback is really important to us," Mee said. "We really pay a lot of attention to what our students are saying and try to make changes as we can based on what they're suggesting."
Fayrouz Farhane, a senior in the College of Communication, said that while he wasn't disappointed, he was surprised BU didn't rank higher. 
"I'm honestly a little it shocked it's not higher up there on the list because it's such a good school and it has really good programs all around," Farhane said. "But it's not low on the totem pole, I just thought it would be higher than 28."
Alexandra Van Waes, a sophomore in the Sargent College of Health and Rehabilitation Sciences, said she thinks the ranking is a good accomplishment, but that it shows room for improvement. 
"I think it's really cool that we're still up in that list, but I think BU could be doing better," Van Waes said. "Especially because I know that we have really good masters programs, especially in that field of study."
Matthew Rupp, a junior in the College of Arts and Sciences, thinks BUSSW's placement in this top 35 ranking will be a net positive for the university.
"It's more of a reason for very smart, well-rounded people to come here," Rupp said. "I think it's good for the school."