Student research is a popular endeavor that many undergraduates see as an opportunity to broaden their own knowledge in a selected field and forge connections with their professors and experts they work with. Countless Boston University students and professors work together in labs, offices and even online, partaking in extensive, high-level research.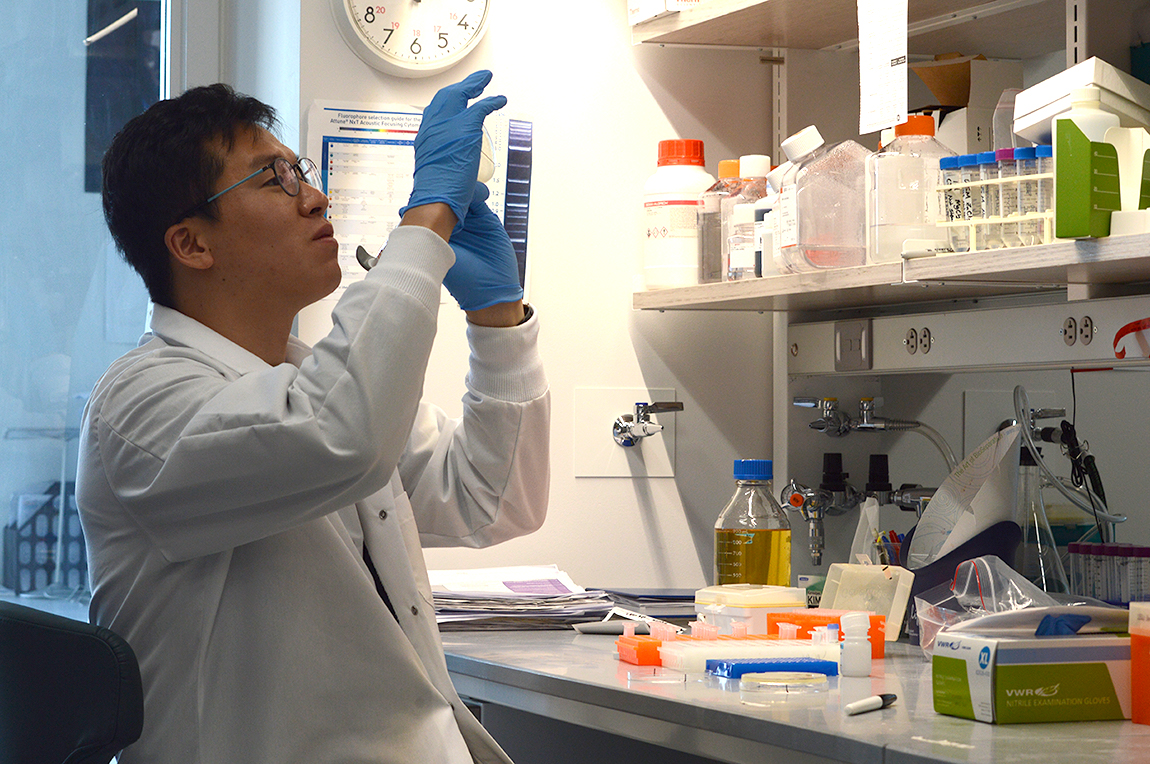 Bhargavi Thakar, a sophomore in the College of Arts and Sciences who works with Professor Wen Li at BU's Center for Space Physics, wrote in an email that she has been passionate about doing research and was interested in pursuing an opportunity from the beginning of her time in college.

"I decided to start looking for research opportunities right from freshman year," Thakar wrote. "There are so many 'sub-fields' in astronomy and physics that I was so confused and unsure as to what I wanted to do."

For those not completely set on what type of research they want to do and are unsure on how to obtain a position in a lab, much information is available on BU's website, which allows students to read about the various research opportunities and projects professors are working on.

"I went through all those faculty pages for astronomy and physics, and sort of shortlisted, the ones that I thought were interesting," Thakar said in an interview. "I shot a few professors emails and I was like 'let's see how that goes.'"

Isabella Muratore, a graduate research fellow in ecology, evolution and behavior at BU, said the undergraduates in her lab are able to take on a variety of challenging roles that are similar to the tasks typically assigned to graduate students. Muratore said the importance of research in an undergraduate's career depends on what they want to do in the future, but that it offers advantages to all students.

"It certainly has benefits for everyone because you learn new science skills, you learn time management organization, you make connections with the scientists," Muratore said. "If you're going to get a job, you can learn a lot of useful technical skills that can translate directly into whatever role you'd have there."

Avery Lahodny, a sophomore in the CAS, conducts research with Associate Professor Hui Feng at BU's Cancer Research Center. Lahodny wrote in an email that she believes meeting experts in the field would be helpful for her as a pre-med undergraduate, and that research serves as a way to apply the concepts taught in class.

"Working in a lab would be an opportunity to get more hands-on experience and meet professionals in my field who can give me valuable advice," Lahodny wrote. "I thought it would help internalize the things I was learning in the classroom."

Lahodny wrote that it was difficult when she first started working in the lab, but said commitment is essential in research to succeed, with the help of passionate mentors.

"Everyone you work with is so intelligent and obviously passionate, as a freshman I felt very under qualified," Lahodny wrote. "However, I have learned that passionate doctors make the best teachers because they want to train young people to carry on with their findings."

Sarah Davies, an assistant professor of biology in CAS, works with undergraduates in her lab where she focuses on current ecological issues as a result of climate change. Davies wrote in an email that working with students and seeing their success is the "highlight of the job."

"I have one undergrad that has a first author publication, another whose first author publication is in revision and a third who is about to submit," Davies wrote. "I wish I had more time and energy to mentor more!"

Davies said she encourages all BU students to take advantage of the many resources provided by the university and to find research that suits their interests.

"I think it is a shame when students at [a prominent research] school do not engage in research," Davies wrote. "It is definitely something that this type of school can offer students that other schools cannot."

Her own experience as a student is what led her to her career, Davies wrote.

"My undergraduate research is why I am still in science and I still remain in contact with my advisor," Davies wrote. "It will be something that will stay with you for a long time."

While Thakar said she knows she wants to continue doing research in physics and astronomy into the future, she said she is open to trying out different areas of research in the field.

"I want to keep experimenting at least while I can to see what different fields are like," Thakar said. "I'm not ruling this out for future research opportunities."

Thakar said she encourages students not to be fazed by the difficulties research may pose. She said she believes it is vital to persevere through the challenges because ultimately, the experience is invaluable.

"It seems very daunting to get into research but honestly the professors are just so open and they just want students to come up to them and talk to them," Thakar said. "Just jump in. You honestly have nothing to lose."