In the three and a half decades since its start, AIGA Boston, a chapter of a professional association for design, has been growing and changing with the times.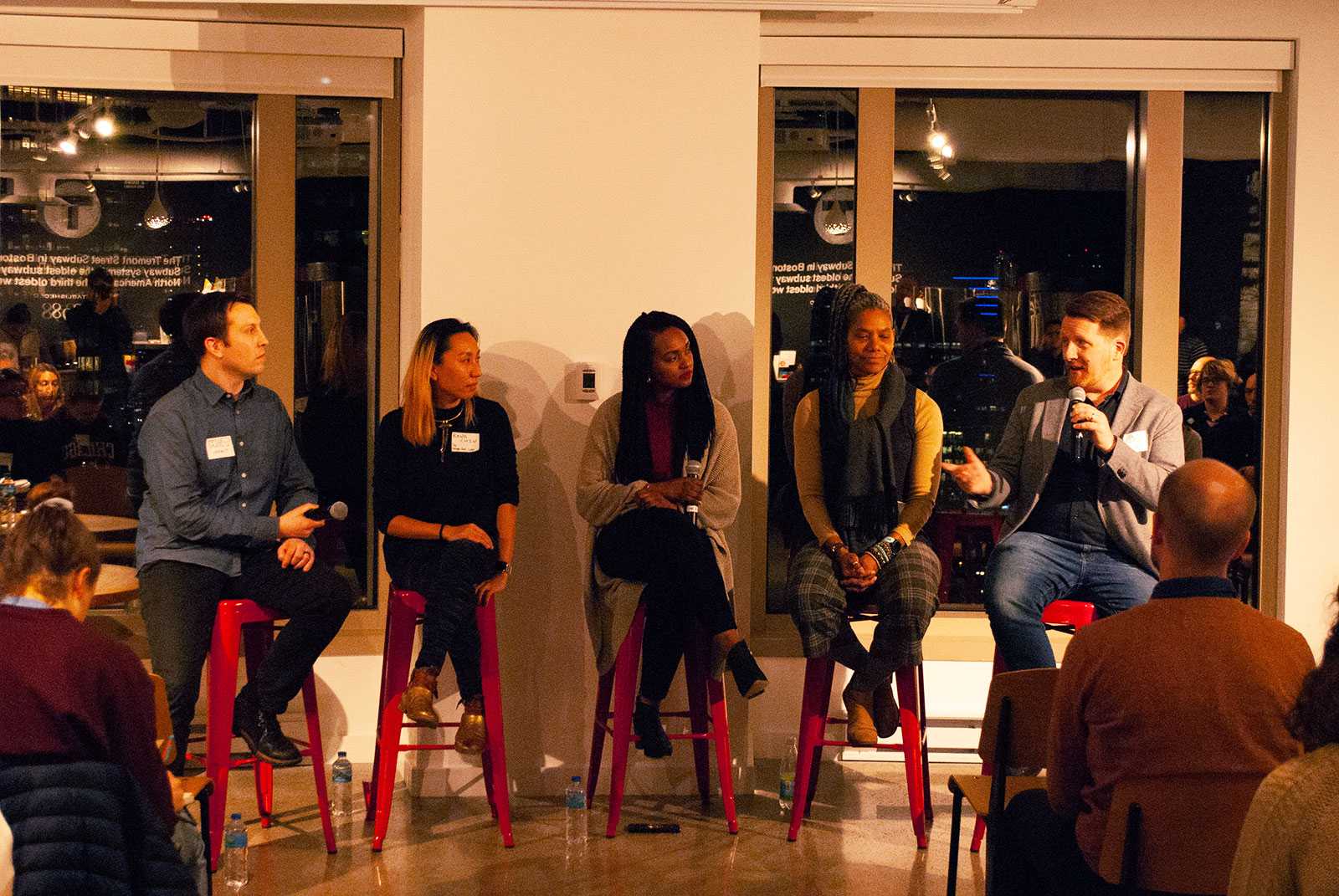 AIGA Boston hosted a panel called "Future Design: The Next 35 Years in an Evolving Industry" Tuesday night at General Assembly Boston. Nathan Pyritz, vice president of programming at AIGA and the coordinator of the event, said the panel focused on the challenges the design industry faces and how it will evolve.

"[The event is] looking forward to where the design industry is going in the next five, ten and 35 years to see how industry is changing," Pyritz said, "and to hopefully identify some areas where professionals, students and emerging designers can see what they need to do to be prepared for the changes in the field that are coming."

To celebrate its 35th anniversary, the chapter invited five speakers to discuss the history and upcoming changes of the design industry. The panelists discussed issues such as how artificial intelligence will change the design industry and how educators and designers alike should adjust to the changing field.

Pyritz said the speakers fulfilled Boston AIGA's goal to form an inclusive community in the design world, so that every issue can be tackled with a variety of perspectives.

"There's a diversity and inclusion initiative that is at the national and at the local level, and it's a big part of what we're doing right now in Boston," Pyritz said. "[We're] trying to increase and promote a wider range of voices in design, and also to look at the places where that's failing and to try to figure out how to correct that."

The speakers additionally discussed how the expectations for designers have increased. Speaker Judith Anderson, who works in the industrial design department at Massachusetts College of Art and Design, said these increased expectations create a greater need for collaboration in the industry.

"There's a lot of expectations that are placed on design and looking at how to navigate that whole space," Anderson said at the event. "As it gets more complex, the problems get more complex, the designer comes in and they need a team."

The speakers highlighted new qualities that design companies look for in potential employers. Anderson said problem solving skills and adaptability are among the most important traits for budding designers in the industry.

"There is that flexibility, that agility, being able to creatively think," Anderson said. "We need to be able to put [students] in situations and then just try things without that portfolio focus."

While the ideas in future design usually involve the integration of multiple perspectives from different professionals, the speakers also discussed where the field has areas of weakness.

Leahanna Savain, a speaker at the event and a marketing specialist at Essential Design, said despite all of the collaboration present in designing buildings, she said she found that tenants were consistently being left out of the conversation, speaking from her own experience working in a team.

"What really frustrated me when I looked around the table was who I didn't see, and it was the people who were going to be living in the building," Savain said. "A lot of the decisions that were being made were being based off of cost… and I was so frustrated because another part of my job was actually interfacing with the tenants. So I was going into these peoples homes, and I was seeing the concerns that they had and they weren't being heard."

Attendee Morgan von Prelle Pecelli, an urban anthropologist whose experience lies in user experience and design, said this event brought to attention the ways in which design will change in the future, for instance becoming less of a tangible process.

"For me, it was very eye-opening to see [and] hear them talking about different kinds of fields and aspects [of design]," Pecelli said.