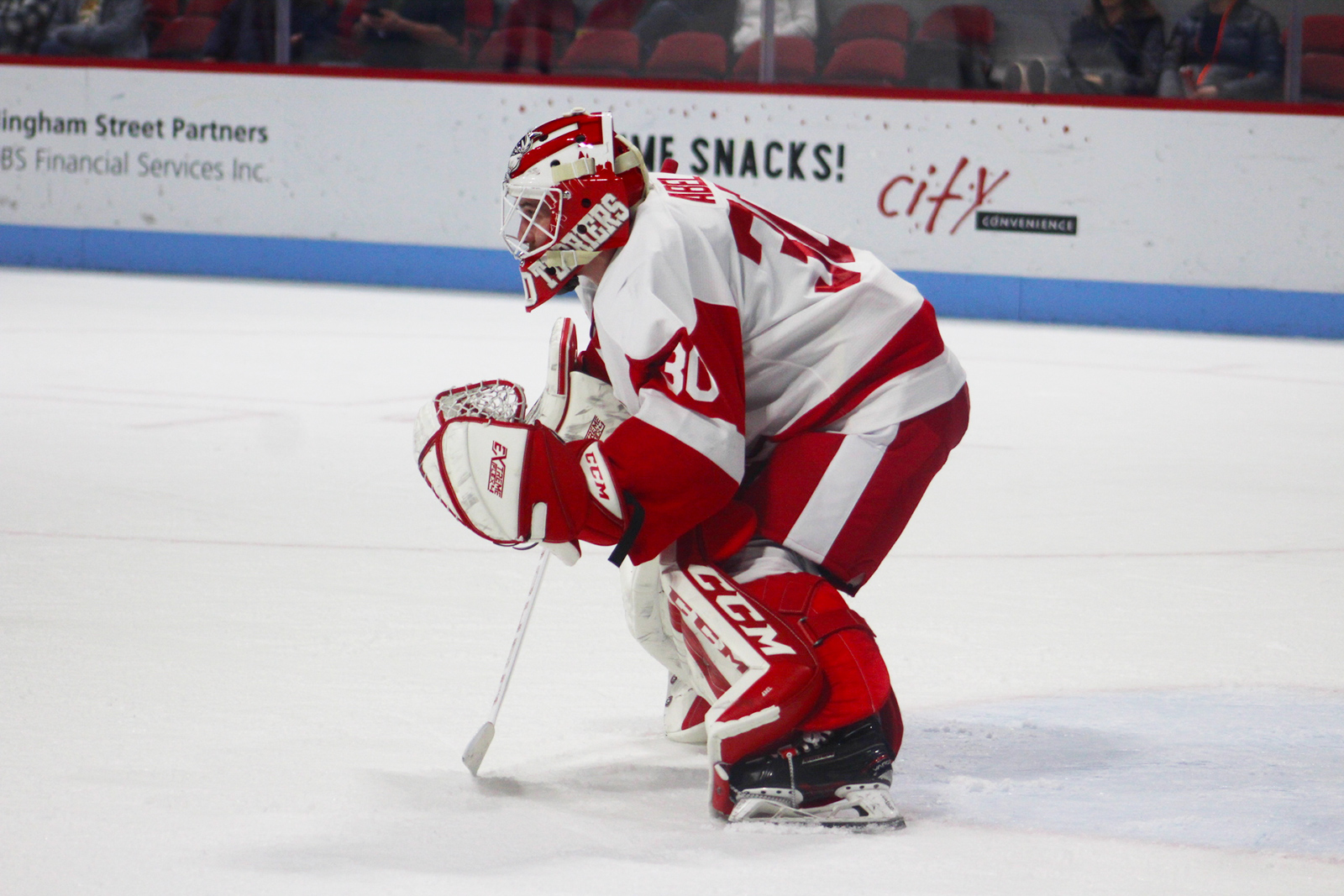 The Boston University men's hockey team exploded with five goals in the final 14 minutes to defeat No. 12 University of Massachusetts Lowell 5-0 at Agganis Arena on Friday night.
BU head coach Albie O'Connell said it was one of the best performances from his Terriers (9-8-5, 6-4-4 Hockey East) all season.
"I thought overall we played a pretty thorough game from the drop of the puck," O'Connell said. "It's the smartest we've played all year." 
After doubling the River Hawks (13-7-4, 7-4-3 Hockey East) in shots on goal 24-12 through a scoreless 40 minutes, the Terriers finally broke the ice 6:47 into the third period through freshman forward Ethan Phillips, snapping home his second goal of the season. 
Phillips said he knew a goal was coming.
"We were playing a good game," Phillips said. "We just kind of had to stay the course and we knew we'd finally get one."
Two minutes later, UMass Lowell junior forward Connor Sodergren was assessed a major penalty, joining sophomore defenseman Chase Blackmun in the box. Over the ensuing five minutes, BU would break the game open.
Freshman forward Trevor Zegras fired one in from between the circles with BU skating five-on-three 16 seconds into Sodergren's penalty, and senior forward Patrick Harper followed suit with a wrister from distance that found its way in and a rebound score less than three minutes later.
To O'Connell, BU's breakthrough resulted from his team's aggressiveness in shooting the puck, which the head coach has preached throughout the season.
"If we get a shooting mentality with that group, we've got enough skill to retrieve it and make plays off it," O'Connell said. "We just kept shooting, and we got traffic [in front of the net]."
With the power-play flurry putting BU up 4-0, freshman forward Robert Mastrosimone drew another River Hawk penalty with 2:13 to play and converted on the power play that followed, punctuating a move by BU's all-freshmen third line, including Phillips and Wilmer Skoog.
Finishing with a shots on goal margin of 35-17, the Terriers earned their first shutout since November as freshman goaltender Ashton Abel picked up his first collegiate clean sheet.
Only arriving at BU a month ago, Abel said he was proud of his unbeaten effort in his first start on home ice.
"Yeah, it feels pretty good," Abel said. "It's something I've worked for my whole life."
O'Connell said he was just as satisfied with the freshman's play. 
"I just thought he managed himself and managed the game really well," O'Connell said. "That's two good starts in a row for him, so hopefully he'll continue that."
On the opposite bench, UMass Lowell head coach Norm Bazin declined to speak with the media after the game.
With the win, BU is now within one point of the fourth-place River Hawks in the Hockey East standings. The Terriers will be looking to leapfrog UMass Lowell when they face off again on Saturday night, but O'Connell said it won't be easy.
 "We know tomorrow night is going to be a really tough one in their building," O'Connell said.
 Puck drop is on Saturday at Lowell's Tsongas Center at 6 p.m.