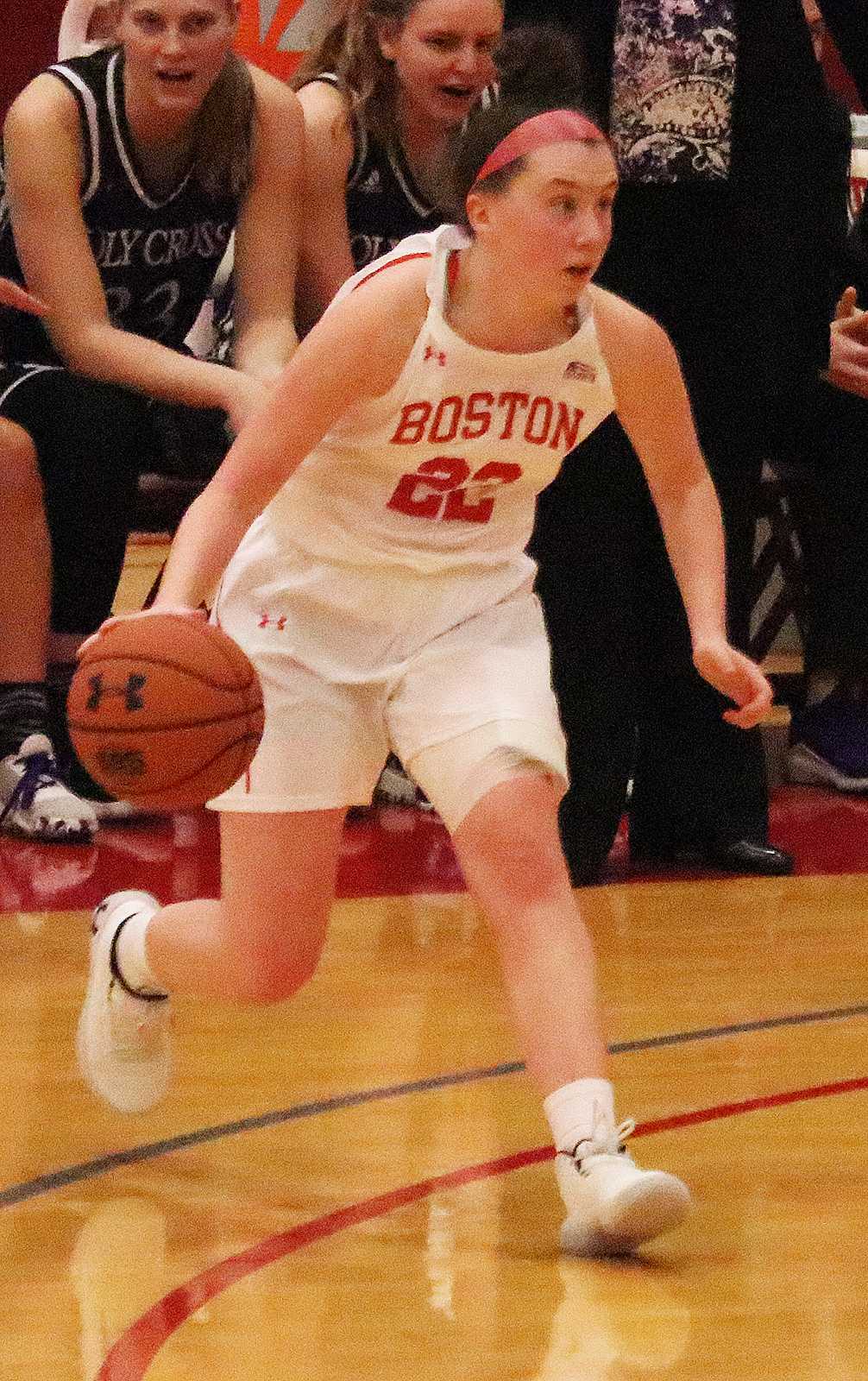 The Boston University women's basketball team hosted the College of the Holy Cross on Alumni Day Saturday in a Turnpike Trophy contest at Case Gym.
Despite an 18-point deficit in the second quarter, the Terriers (9-10, 4-4 Patriot League) rallied to defeat the Crusaders (12-7, 5-3 Patriot League) in a 76-70 overtime win.
BU head coach Marisa Moseley said she told her players to stick to the basics and continue to chip away at the Crusaders' lead.
 "I just told them, 'We're right here, its 0-0, we gotta go out there and just get the stops and scores,'" Moseley said. "They really continued to fight and never stop believing."
BU freshman guard Maggie Pina had a standout scoring performance, leading all scorers with 23 points, including five 3-pointers that helped give the Terriers claw their way back into the game. Pina, who is a three-time Patriot League Rookie of the Week selection, shot almost 62 percent from the field and over 55 percent from beyond the arc.
In addition to Pina, freshman forward Maren Durant stepped up for the Terriers and posted her second double-double of the season with 14 points and 12 rebounds, while freshman guard Sydney Johnson put up 13 points and eight rebounds.
Despite missing senior forward Nia Irving due to injury, Moseley praised her players for working together and taking on a very strong conference team.
"I thought Maggie Pina was huge for us. Defensively, Maren Durant was huge for us, you know, two freshmen. Tenisha Pressley coming off the bench was huge for us," Moseley said. "Katie Nelson, I don't think we can say enough about the type of leader that she is… And then Sydney Johnson and other freshmen were giving us some great minutes and attacking the basket, so collectively, it was a good team effort."
The two halves of the game were completely different stories for BU. Holy Cross executed on scoring opportunities, making 78.6 percent of shots from the field in the first quarter, while BU made only 33.3 percent of field goals in that time. But by the end of the second quarter, BU had improved that figure to 50 percent and began to drain shots from long-range as well. 
Holy Cross senior forward Lauren Manis posted a double-double with 19 points and 11 rebounds. Despite putting up strong numbers, Manis, who is the top scorer in the Patriot League, could not give her team the edge and stop BU's momentum toward the end of the game.
Moseley credited her team for stopping Manis from taking over the entire game.
"I think our kids really honed in, and they knew that she's a big part of what [the Crusaders] want to do," Moseley said. "I think we're really physical, and we tried to make her work for all her buckets, and I was really proud of their effort."
The 18-point comeback was the Terriers' biggest comeback in three years. In 2017, BU was down 15 points in the fourth quarter to Lehigh University before storming back to a 69-64 win.
Moseley said the momentum going into the second half gave the Terriers a boost to come out and play hard the rest of the game.
"I think that we really got some momentum going into the half with Maggie hitting that three and picking up man-to-man and getting some turnovers," Moseley said. "Third quarters, we have traditionally not been great in, and I think we just felt the momentum swing,"
Moseley said this win against a strong conference team will be a good reminder going forward in conference play that the Terriers are competitive and do not give up.
"Going forward, it just gives them a lot of confidence to know that we can compete," Moseley said. "I mean, you look at this game, you look at Colgate, I think we were up 13 in that game, and that we just have the ability to compete with anybody in this league."
BU will head to Loyola Maryland in Baltimore, Maryland in its first rematch of the season on Wednesday at 6 p.m.