As flu season rolls around once again, Massachusetts saw its first pediatric death from influenza Thursday.
Lawrence Madoff, medical director at the Bureau of Infectious Disease and Laboratory Sciences at the Massachusetts Department of Public Health, said flu activity this year is higher than it was last year.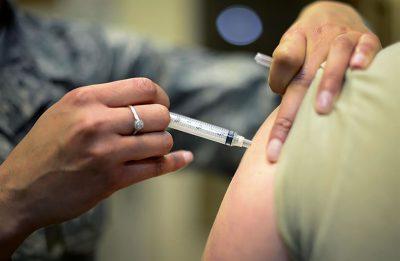 Flu season was particularly long last year, Madoff said, and influenza B has appeared unusually early in the season this year.
"One of the interesting things is that we're seeing influenza B early in the season this year, and sometimes that leaves a window open for the other types of influenza to come in later," Madoff said. "So we just don't know what's going to happen next."
Madoff added while it's possible to speculate, experts do not yet know why this year's flu season seems more severe than previous years.
"[It] ranges from what specific strains are circulating, the immunity in the population, the weather and other factors that we really don't fully understand," Madoff said. "It's really very difficult to predict."
DPH Commissioner Monica Bharel said in a press release that individuals should consider getting their flu shots to better guard against cases like that of Thursday's.
"This is a tragic reminder of how serious the flu can be for both children and adults,'' Bharel said. "Every flu season is different, but January and February are typically the height of flu season. We want people to know that it's not too late to get a flu shot."
Flu shots are the best line of defense against influenza, Madoff said. Boston University's Student Health Services will be offering free flu shots, amongst others, on campus on March 20.
Madoff said college students are particularly at risk of illnesses such as the flu due to constant close proximity to each other and their tendency to share consumable goods, such as beverages and smoking material.
"The good news about college students is that they tend to be in an age group where if they get the flu, its complications are not likely to be as bad," Madoff said. "As a young, healthy population in general, college students are less likely to have complications of the flu, but they can still get really sick, and it's better to stay well."
Alok Kanojia, 37, of Jamaica Plain said he keeps his kids home if they are sick, and that he thinks it is important to get a flu shot.
"It decreases your chances of getting the flu," Kanojia said. "But, it also improves herd immunity, which is going to prevent you from passing [the flu] on to other people."
Noelle San Jose, 35, of East Boston said she hasn't noticed more people around her getting sick, but she also takes precautions to avoid illness.
"I stay well hydrated; I do get vaccinated every year," San Jose said. "It's extremely important [to get a flu shot]."
Conor Harrington, 22, of South Boston said he feels like people are noticing others getting sick. He said he thinks everyone should take care not to spread disease.
"I think all vaccines are essential," Harrington said. "With so many babies around, you just have to get it."