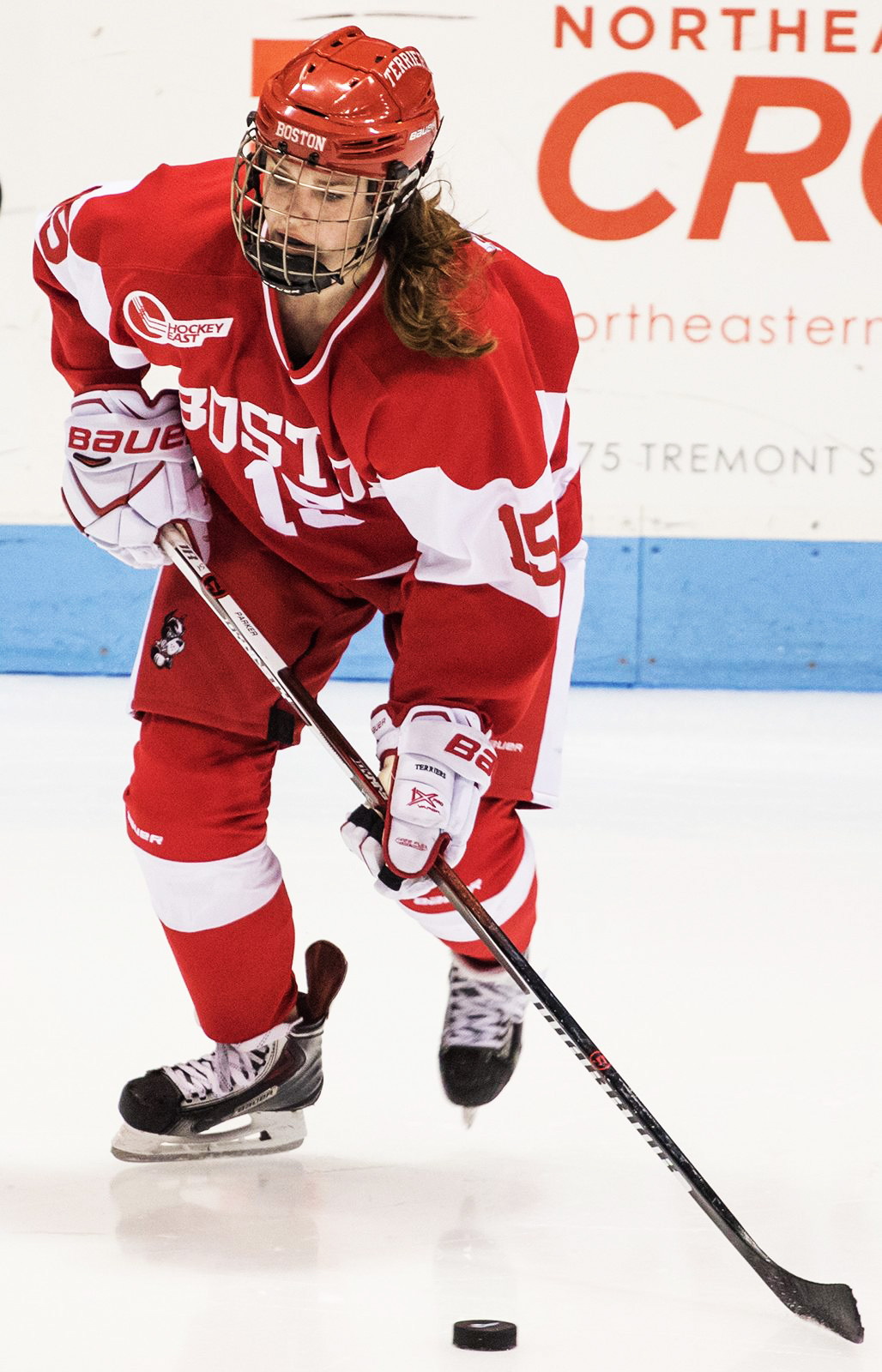 The option to play hockey professionally after college has historically been an opportunity for men who are lucky to be skilled enough for quite some time now. For women, however, the idea of playing hockey past college — and to be paid for their talent — is fairly new.
The National Women's Hockey League was established in 2015 with the mission of providing a league for the best players in the world to pursue a professional career that is financially viable.
Currently, there are five women playing for the Boston Pride that have either played hockey at Boston University or held a leadership position within the Terriers athletic department. Mary Parker class of 2017, Kaleigh Fratkin class of 2014, Jordan Juron class of 2016 and Victoria Hanson class of 2017 are all playing for the Pride this season. Former Director of Hockey Operations for BU's Women's Ice Hockey, Karilyn Pilch, is the current general manager of the Pride.
Fratkin said the NWHL provides an opportunities for the stars of college hockey to continue their playing careers.
"What's so interesting about the opportunity now that there is a professional league that girls can stride to post-college is that the quality of hockey is really strong," Fratkin said. "I'd say that all the girls that are playing at the pro-level were the top player on their teams."
However, that does not go to say the quality of hockey for the four former BU players was not as strong during their time as a Terrier, as all four women put up exceptionally well numbers when they were on the team.
Fratkin, a defenseman, had nine goals and 57 assists for 66 points in 151 games with BU. She never missed a game in her collegiate career. Award-wise, Fratkin earned New England Division One All-Star, Hockey East First-Team All-Star and played on the Hockey East All-Tournament Team in the 2013-14 season. 
Juron, a forward for the Terriers, put up five goals and nine assists for 14 points in 39 games. Awards for Juron include Hockey East All-Academic Team and Hockey East Rookie of the Week. 
Parker, former graduate student and forward at BU, had an impressive 24 goals and 18 assists for 42 points in 33 games. She won numerous awards such as, New England Division One All-Star, Hockey East Second Team All-Star, Hockey East Player of the Month and Hockey East All-Academic Team.
Hanson, former goaltender, had a 2.63 goals allowed per game, a .917 save percentage and a 19-14-4 record with the Terriers. Her award resume includes New England Division One All-Star, Hockey East First Team All-Star, Hockey East Goaltending Champion, Hockey East Distinguished Scholar and Hockey East All-Academic Team. 
When reflecting on their time not only as an athlete but also a student, both Fratkin and Parker expressed academics were a focus that was stressed upon by head coach Brian Durocher throughout their time at BU.
"He taught us the value of [being] student athletes," Fratkin said. "Academics were not something to discredit because that was definitely a central part of my time at BU as well." 
Parker looks back fondly on her time on Commonwealth Ave.
"The experience of being a student athlete at BU was great," Parker said. "The team, the coaches, the atmosphere, [were] always something that was a really great experience to be a part of."
Both Fratkin and Parker have also attended BU women's hockey games since graduating, and said Durocher tends to keep in touch with his former players.
Parker said she is always in contact with her former Terrier teammates.
"Coach Durocher is someone who always stays heavily involved with the alumni," Parker said. "And that's something that is really special… playing with alumni, it's great to be able to continue that honor playing with the Boston Pride now."
Fratkin said Durocher's impact goes beyond the ice.
"[The] impact he had on me as a player was that he treated us like family," Fratkin said. "I always felt like I was a part of [his] family, that's how he made it feel. That's something special, that you don't get from all coaches."
When the Terriers won their first Beanpot championship in nearly four decades last year on Feb. 13, Parker was at the championship game.
"It was a really cool experience seeing BU win it after it had been quite some time," Parker said. "It was really awesome to se
e them pull through."
BU won that game against the Harvard Crimson in sudden-death overtime 3-2. On the power play in overtime, current redshirt senior forward and captain Sammy Davis scored the game-winner, giving the Terriers their first Beanpot win since 1981 when the varsity squad was still a club team. 
Fratkin was at the Beanpot semifinal last year, but was unable to see the championship. She will, however, be commentating the Beanpot this year as she tries to stay involved as much as she can between professional play and coming back to BU.
The Pride sits first in the league with a 20-1-1 record; their only loss to the Minnesota Whitecaps on Jan. 25. Boston is hosting the NWHL All-Star Skills Challenge and Game on Feb. 8 and Feb. 9 respectively at their home rink in Warrior Ice Arena.