It is easy to associate the term classical music with instrumental pieces written centuries ago by composers like Mozart or Beethoven. But contemporary composers like Thomas Weaver are looking to change that image.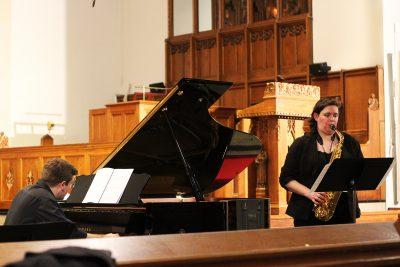 Boston-based saxophone group, the Pharos Quartet, performed with composer and pianist Thomas Weaver on Saturday in Boston University's Marsh Chapel. With quintets, quartets, duos and solos, the program featured both reimagined classical pieces and newly commissioned contemporary pieces.
The quartet includes members Jennifer Bill, Amy McGlothlin, Emily Cox and Zach Schwartz. The quartet performs mostly contemporary saxophone quartet music for their instrumentation of soprano, alto, tenor and baritone saxophones.
The program began with "The Many Rend the Skies," a traditional piece by G. F. Handel, arranged by Bill, the soprano saxophonist of Pharos and lecturer of music at BU School of Music. It was the only non-contemporary piece featured in the program.
The quartet followed up the classical piece with a piece by Canadian composer Dorothy Chang written in 2003, commissioned by the Chicago Saxophone Quartet. The piece, entitled "Obsess," is in two movements: "Incantation" and "In Solitude."
As a guest with the quartet for this concert and alumnus of BU's College of Fine Arts, Weaver performed the third piece of the program, David Loeb's "The Invisible River," as a solo in its premiere performance.
Weaver said this song was personal for him because he was taught by Loeb while studying for his master's degree at Mannes School of Music at the New School. He said playing this piece was a way to share an influence from his life at the university he first attended.
"It's important to me to share works by people that are close to me," Weaver said. "That's the same as playing with people that are close to me."
Following Loeb's piece, Weaver and alto saxophonist Cox performed Weaver's own work, "Contrasts," which premiered at Boston University Tanglewood Institute in June 2016 and was performed in three parts.
Baritone saxophonist Schwartz, who attended BU as a student with Weaver, performed "Rhapsody for Baritone Saxophone and Piano" by Mark Watters, a piece he said premiered in 1985, but never took off. Schwartz has recorded and performed the piece around the world, and it will be on his debut album.
The concert ended with the full quartet and piano in a world premiere of Weaver's piece "Rift," which was performed in three movements. The song was commissioned by the Pharos Quartet. Bill said "Rift" was the most exciting piece for her to play because it presented the opportunity to perform with the composer who wrote the piece.
"It's fun to get a brand new piece that's a good piece because it doesn't always happen," Bill said. "And being able to work and perform with the composer is just like an extra bonus."
Macy Woudenberg, a freshman in CFA, attended the concert and said she enjoyed the Watters and final pieces the most. She said the rhapsody covered the solo repertoire well, and "Rift" opened up the saxophone quartet sound.
"I love good saxophone music," Woudenberg said. "I just feel like it's harder to find saxophone quartets because [they're not] in a lot of contemporary music."
The saxophone quartet's tone sat atop the piano's notes, which Weaver said he enjoys about the instrumentation. He said he enjoyed writing "Rift" because of the unified sound that comes with a saxophone quartet.
"It's fun to play with that more homophonic texture and write something for that in contrast with the piano," Weaver said. "That's what I enjoyed, and the sheer number of notes that [saxophones] can play at the time. It's just fun to play with."
Bill said performing as a saxophone quartet is unique because it offers the benefits of both brass instruments and woodwind instruments.
"The best part about sax quartet is that it's a combination of woodwinds, but we have the sound of the brass," Bill said. "We are kind of the best of both worlds."
For Weaver, performing new works and his own work keeps the music industry more in the present, which keeps it alive. Weaver said playing contemporary pieces is important because it represents progress.
"If you're not playing contemporary music, I think it kind of represents a standstill in the arts," Weaver said. "It's really important to bring something new and something fresh to the stage… I think modern audiences react to that."
Bill said performing contemporary works can expand the music scene at BU.
"Contemporary music is the music of our time," Bill said. "The music of our time is important because I believe there's so much variety out there, so we want to bring different genres to the campus."